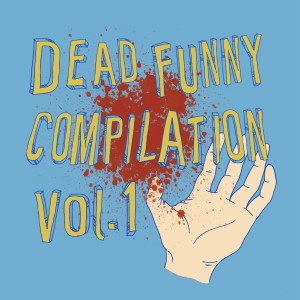 The label compilation serves as a great way to broadcast a mission statement for an imprint – here are the groups support, and this is who we are. Dead Funny Records have put out some excellent materials by the likes of Osaka's The Paella's, Saitama's Fancy Books and Tokyo's Jappers, but with their first official compilation album they attempt to carve out an identity for themselves. This 50-minute-plus album primarily features guitar-heavy rock bands from all over Japan – it's not the most niche style to put on for, but Dead Funny at least set boundaries as the music here ranges from sorta harsh (POP-OFFICE's lovely "End Of Summer," the rough-but-strong contribution from the band Half Sports which features such a good gallop) to toothache-causing indie-pop (the hiccuping "Little Girl" courtesy of Old Lacy Bed, a jangly contribution from the always impressive Homecomings) that is still different from a label like Ano(t)raks – despite both sharing Tokyo tweesters Boyish who appear on this album.
It's not really shocking that one of the highlights of Dead Funny's compilation album is a new track from The Paella's. Over the past few years, this Osaka group has developed a style that suits them perfectly – whenever I listen to them, I picture a dimly lit lounge somewhere in a big city, half-empty at like 4 in the morning – and their "Fall Even Further" is a driving number strengthened by the group's use of subdued vocals. Yet the other great tracks come from groups that haven't gotten as enough attention – the CD starts with what might be the best song here, a bouncy bit of indie-pop from the band talk called "In Refrain Rain." It moves at a skip, but the outfit's use of bells lend it a soft quality. Plus, that chorus is sweet and manages the tricky business of being inflated and sorta wistful. Fukuoka's Hearsays also score a highlight with their "The Blind," a Real-Estate-esque bit of Sunday morning pop.
Only one song clashes with the Dead Funny sound established on this comp, and it's a welcome curveball. Fancy Books' "Nephogram" barely utilizes guitars, instead creating a spaced-out track where unintelligible voices drift like stardust and a thousand twinkles burn off in the distance. Every label needs that one band that seems out of place but actually pushes the place in new directions. Buy the album here, or listen to it below (first heard on Gold Soundz).