#20 Chelmico Fishing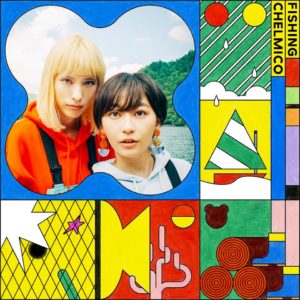 Take a moment to appreciate how timing really is everything, and how many artists could have shot down a different path entirely if you wind the clocks back or forward just one year. It's not hard to picture a reality where Chelmico are closer to idols like Lyrical School or Rhymeberry if they emerge closer to AKB48's peak, or they get pushed to be more traditionally hip-hop if trends break right. Yet the pair popped up at a sweet spot in the mid 2010s where they could develop their genre-hopping approach to rap, and when they did reach the majors they didn't have to fill any pre-determined boxes, but could be a social-media age take on RIP SLYME and Halcali's hip-pop.
Fishing is the pay off, a Warner-backed full-length showing Chelmico's versatility in all its sonic and emotional breadth. The duo's main inspiration point — the aforementioned RIP SLYME — can be a divisive one in how the J-pop up rap, with plenty to critique. Chelmico, though, nail all the positive points, glueing tag-team verses to earworm hooks. The backdrop doesn't matter, as they can dash alongside electronic skitters on "Exit" or work within the confines of something approaching eyes-down indie-rock on "12:37." The pop highs on Fishing are their best to date, highlighted by "Switch" and "Summer Day's" bounce-house energy, but it's the more deflated numbers like "Balloon" and "Navy Love," where Chelmico turn their usually chipper style towards heavier feelings that really make this album their breakthrough. It's them taking risks and not always hitting — no song on any album featured here or after is as bad as "Beer Bear" — but the willingness to go for it comes through clearly, and results in one of J-pop's brightest spots in 2019 and something perfect for the times. Listen below.