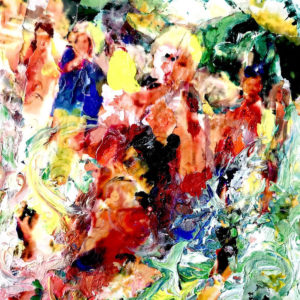 — The 10th installment of the Draping series dropped late last week, finding the trio of DJ Fulltono, CRZKNY and Skip Club Orchestra continue to play around with footwork. This time around, all three play around with the same central sample (or at the very least let the main sample stand out more clearly across all tracks), each taking their own approach to a Spanish-language vocal. Get it here, or listen below.
— Diskotopia co-founder BD1982 released a new EP called 7th Door, featuring five spacious rumblers revealing new details as they move along. The entire release feels a little more misty, songs such as the title track and "The Loa" carrying a sense of unease throughout. Same time, BD1982 adds in something like the hoppy "Find a Way," which still boasts plenty of space but makes the beat front and center. Get it here, or listen below.
— Oyubi continues sharing in a very busy 2019 with "Just In," an energetic number moving a little bit away from the footwork of other releases in favor of ghettotech. This one opts for simplicity — one great vocal sample surrounded by an aerobic beat that weaves in piano notes and strings as it goes along. Get it here, or listen below.