Another year draws to a close, and that means its time for the annual rush of year-end blog posts looking back on the year that was. And, again, I try to write an intro to this collection trying to say something original, about putting together lists and what it all means. But at this point, I know exactly why I do this and why I think it matters — because lots of great artists, albums and songs emerged from Japan in 2016, and some of my personal highlights deserve a chance to be discovered and heard. That's the optimistic view of these endeavors, after all. That it offers a chance to hear all the stuff you missed, and find something new to swoon about.
Make Believe Melodies' year-end coverage starts today with our Favorite Japanese Songs Of 2016. Like last year, no rankings, but rather a chronological pass through some of our favorite tunes that weren't on any of the albums the site plans to cover later in the week.
And if you want my take on the year as a whole, jump over to The Japan Times.
E-Girls "Dance With Me Now!"
Released a day before 2016 officially arrived, "Dance With Me Now!" remains as polished and all-around hooky a J-Pop song as anything that came out in the months that followed. This has been E-Girls' strength since Exile decided to get in the girl group game, but they've never been as direct as on this tightly constructed bit of club escapism.
Metafive "Luv U Tokio"
The one moment this year where supergroup Metafive — featuring members of Yellow Magic Orchestra, Denki Groove, Cornelius, Towa Tei and more — rose above a jagged collection recalling much better releases to deliver something they could call their own. Maybe the secret was letting Yukihiro Takahashi's soft voice be the focus.
Parkgolf "Silk Curtain"
Plenty of artists all over the map have embraced the high-definition sounds and drip-drop-piness that appear on "Silk Curtain," but very few can arrange all these moving pieces into something body moving and bonkers like Sapporo's Parkgolf. Also see "Crush On," though it was this track via Activia Benz that scored more plays in my iTunes.
Fish "Motherfucker"
Nagoya's Fish know what they are good at, and that's chugging ahead without even considering a break. Nothing complicated, and it makes "Motherfucker" one that has lodged in our heads.
Universe Nekoko Featuring Tsvaci "Online Love"
This was probably the year my feelings on the internet switched up entirely, going from a place that felt full of potential to a place I'd rather avoid save for the whole "my entire livelihood hinges on utilizing it" thing. To save you from more rambling thoughts on the digital realm, the internet just made me feel exhausted in a way it never has before. "Online Love" isn't Universe Nekoko's grand thinkpiece on the Web, as the lyrics never even make direct reference to online. Rather, it's about escape. It starts with a line about being a hikikomori for three years, and then goes on to describe the outside world and the people inhabiting it like a lab journal. But don't even worry about parsing the words, because the band's sparser playing and guest singer Tsvaci's bleary-eyed delivery drive home the feeling of finding warm optimism in the real world around you.
Pasocom Music Club "Dreamin'"
Not to look too far ahead, but our vote for Japanese artist to watch most closely in 2017 is Pasocom Music Club, an outfit which spent 2016 releasing a lot of fantastic music teasing a lot of stylistic influences but rendering it all into skippy electronic sound all its own. "Dreamin'" was our top of the pile, turning tight bass notes and touches of acid house into a relentlessly bouncy number.
Daichi Miura's "Cry & Fight"
The back half of 2016 saw J-Pop flee towards familiar sounds…it was six months of "remember the '90s??" but instead of even getting new artists tinkering with older styles, everyone just talked about SMAP…and it became so dominant that it's tough to remember all the genuinely weird ideas popping up in radio-eyeing cuts in the first half of the year. Daichi Miura's "Cry & Fight" features production from Seiho, and the song struck just the right balance between populism and strangeness (subtle shifts in pitch, water drops, the beat!).
Okazaki Taiiku "Music Video"
OK, this one is a slight cheat — "Music Video" only really works when paired with its, uh, music video. But Okazaki Taiiku delivered the funniest and sharpest critique of Japanese mainstream music's general lack of originality with this smart-ass number about how every music video features the same damn things. No thinkpiece touches the passage hear highlighting the five ways women can be used in a music video (dancing, crying, lying on the ground, etc.).
Yullipe "Retouch"
A slow-burning electronic number the felt like being consumed by quicksand. Felt pretty apt as the year moved on.
J Gryphin and GoHoLo "S&T"
A song touching on trap, rap, R&B, Jersey Club and even kawaii pop, but done in a way that never feels overwhelming or muddled. Rather, the Nagoya track maker and Ibaraki rapper put together a rumbling number with one of the best choruses to sneak out of the Bandcamp ether this year.
Shiggy Jr. "Koishitara Baby"
Shiggy Jr.'s debut full length All About Pop, released this past fall, showed that this is an outfit that works best in short bursts of perfect pop. Which is to say, instead of slogging through the full-length, just play "Koishitara Baby" and be swept up in its radio-ready reworking of disco-pop. Added bonus — further proof this quartet is the best at writing breakdowns and bridges that up the emotional impact of their music in J-Pop today.
FAMM'IN "Circle"
Song of the year, and man, I don't want to repeat myself. It's not that a major label put this out that makes it so great — though that detail makes it far crazier — but rather that something so alien from every other musical trend, mainstream or otherwise, exists, and nails it. This is one people will revisit in the years to come.
Yunomi Featuring Toriena "Oedo Controller"
"Cute" music mutated fiercely in 2016. A few years back, Kyary Pamyu Pamyu sat at the center of the kawaii universe with a sound that was a playroom twist on Yasutaka Nakata's compressed approach to pop. But now, more underground electronic artists are pushing it in new directions, from the big-picture ponderings of Yoshino Yoshikawa to the elegant piano pieces done by Snail's House. Producer Yunomi pushes cuddly sounds to the most extreme lengths of anyone fond of using anime women as artwork, and it can get a little too roughneck at times. But when it hits, like on the celebratory "Oedo Controller, it's unstoppable. Featuring hints of traditional Japanese music and a hell of guest spot from Toriena, it was the highlight for an artist who released a lot of thundering electronic numbers.
Seira Kariya "Colorful World"
Vitamin D in sonic form.
Daoko "Bang!"
The most intriguing artists tend to be the ones doing something different, but who recognize they have the ability to be big…and take the chance. Daoko's star turn still has quite some way to go, and her biggest challenge will be figuring out just how to balance all the interesting elements of her previous "mysterious rapping high schooler" life with being in the spotlight. "Bang!" is the closest she's come to getting the formula down, with hushed verses leading up to a big bright hook.
Buddhahouse "Summer Breeze"
Relaxed, but still bubbling over with enough tension to make it feel compelling.
Kissmeofficelady "Amour D'été"
Future funk is big business in 2016 — have you seen how many people shell out money to listen to brisk, slightly reworked '80s funk songs? I'm pretty on the fence about that style all around, but I'm definitely on board with Kissmeofficelady, who use a future funk backdrop to highlight rapper Kokosemami's verses. Instead of simply resting on the pass and hoping you drain your PayPal balance a smidggen, they use it as a springboard to something original.
Brinq Featuring Minan "Baby Baby"
Jumping off the idea of "kawaii" music morphing into new shapes this year — producer Brinq made a lovely (but slightly overstuffed) album of cute-gone-disco this fall. But nothing on it touches the sway of "Baby Baby," featuring an appearance from Minan of idol rap unit Lyrical School.
Tatsuro Yamashita "Cheer Up! The Summer"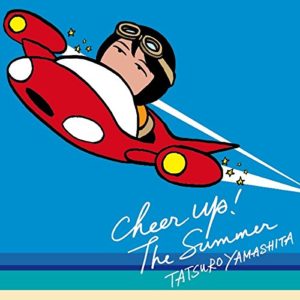 Strongest argument about the crop of artists who popped up over the last few years drawing from city pop? That the man who helped invent the style came around this fall and made a song better than any of the revisionist stuff.
Kamisama Club "Onegai Temple"
Squiggly pop done very well from one of the year's most intriguing new duos.
tofubeats "Shoppingmall"
The goofiness often accompanying tofubeats' rap verses vanished on "Shoppingmall," replaced by existential questions and an emotion rarely emerging from mainstream J-Pop…frustration.
LLLL Featuring Yeule "Dance & Kill"
Tokyo's LLLL launched his "Chains" project this November, and the song to beat from it is "Dance & Kill," a rumbling electronic number featuring Yeule's voice haunting the background.
Lulu "Young Young Adult"
A reflective and at-times downtrodden number about being a young adult…masked a bit by a sticky beat and some twinkling synth details.
Kindan No Tasuketsu Featuring Uchu "Tomorrow World"
Kindan No Tasuketsu tried out a lot of styles over the course of 2016 on a variety of skattered-about numbers, but "Tomorrow World," featuring Uchu, reminds that the band works best when making electro-tinged anthems that get right to the emotions at their core.
Tokyo Girls' Style "Mille-Feuille"
If you've come this far, perhaps you saw the part earlier above about how J-Pop shifted towards nostalgia in the latter half of the year at the expense of more adventerous sounds. Well, the forecast is looking up for 2017 for a lot of reasons, and recovering idol group Tokyo Girls' Style served up one example why with this, a number seamlessly working in elements of future-bass into a catchy, pop-appropriate cut. Maybe Avex is just ahead of everyone, or maybe songs like "Mille-Feuille" hint at where pop acts will go in the near future.