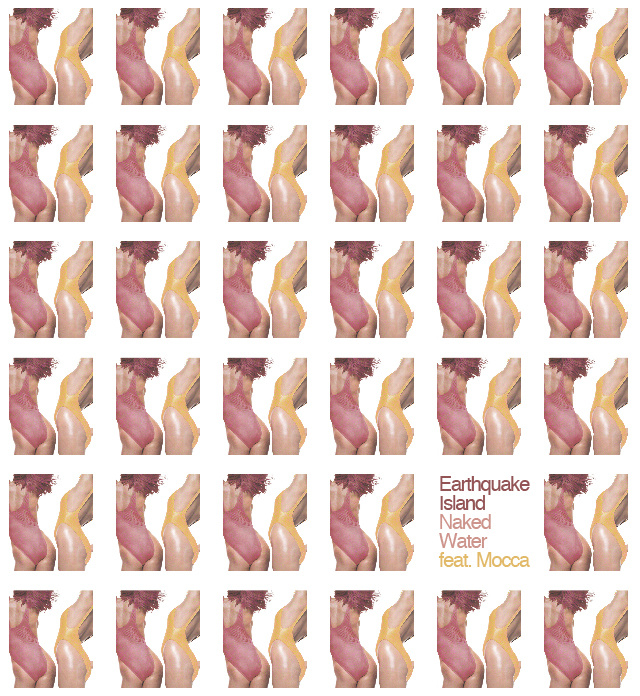 This month's Music Alliance Pact installment is here, and we are highlighting the latest from Tokyo's Earthquake Island. Listen to it…and many more…below!
Click the play button icon to listen to individual songs, right-click on the song title to download an mp3, or grab a zip file of the full 27-track compilation through Ge.tt here.
JAPAN: Make Believe Melodies
Earthquake Island – Naked Water
Earthquake Island is usually a solo project based in Tokyo, but for Naked Water the producer behind the music recruited singer Mocca to perform over a lovely, glowing soundtrack that would sound right at home in a church. Her contributions, though, add even more beauty as her vocals overlap one another and give the entire number a Björk-ish edge.
ARGENTINA: Zonaindie
The Plasticos – Marfil
This band from La Plata usually cites British rock acts such as The Kinks, Blur and The Stone Roses as their main influences. However, this track from The Plasticos' new album, Kilómetros, is one of our favorites because of its grungy sound that reminds us of the new Argentine rock movement from the late 90s. You can listen to the album on Bandcamp.
AUSTRALIA: Who The Bloody Hell Are They?
Dianas – Dix
There are moments when all you want to do is kiss the guy who invented the internet. Such is the case when one Bandcamp tag after the other, we stumbled upon Dianas, a trio from the distant city of Perth. Dix is a dreamy drone-pop tune with all those floral notes typical of Scottish indie; kind of like what Camera Obscura might have sounded like on a hot summer's night in Western Australia.
BRAZIL: Meio Desligado
Isaar – Tudo Em Volta De Mim Vira Um Vão
Sort of a sad waltz, Tudo Em Volta De Mim Vira Um Vão is taken from Isaar's new album, Todo Calor (roughly translated as "All The Heat"). Originally from Recife, one of Brazil's most prolific cities, Isaar shows her strong influences of local culture such as frevo, maracatu and manguebeat, but also flirts with pop music and other contemporary artists like Siba and Orquestra Contemporânea De Olinda.
CANADA: Quick Before It Melts
Zoo Legacy – CRWD
Hybrid hip-hop rockers Zoo Legacy are from Ottawa but have a world-conquering sound. Blending indie-rock, R&B, hip-hop and pop, it's impossible to pinpoint which element is the band's focus, and that's exactly what they've intended. Lines blur and genres blend, but Zoo Legacy's gift will always be musical alchemy.
CHILE: Super 45
Niño Cohete – El Bosque
Niño Cohete, a band from Concepción, packed Teatro La Cupula at Lollapalooza Chile in March. With an EP and a recently released debut album, Aves De Chile, they're conquering the country with their music. They define their style as "sylvan pop" and new single El Bosque has nice guitar arrangements and a very upbeat melody.
COLOMBIA: El Parlante Amarillo
Flaco Flow & Melanina – El Desorden
From the Colombian Pacific coast comes hip hop duo Flaco Flow & Melanina who, after 12 years, four albums and tours around the world, are still armed with good rhythm and real, powerful lyrics. They never deny their Latin flavor as you can hear in their salsa song El Desorden.
DENMARK: All Scandinavian
Kristian Harting – Kamikaze
Having paid his dues in a bunch of more or less under the radar thrash metal and noise-rock bands for the past 15 years, Kristian Harting has finally released a debut solo album. Float is a personal account of emotional and financial turmoil set to bleak and haunting alt-folk that will get you one way or the other. At least if you have a penchant for this type of music. And a soul. Kamikaze is a MAP exclusive download.
DOMINICAN REPUBLIC: La Casetera
R.E.A.L.I.D.A.D. – Cogiendo Fuego feat. Carolina Camacho
We usually don't repeat artists on our MAP submissions, but with this one the team decided to make an exception. Both R.E.A.L.I.D.A.D. and Carolina Camacho have been featured before because they make unique music in their genres. For this track, the fury that fuels rock music and the fierce attitude of rap mix together to defend our people from corruption, softened by Carolina's voice over the chorus. Head to the Bandcamp link above to download Resurgir/Combates Necesarios, the latest EP from R.E.A.L.I.D.A.D.
ECUADOR: Plan Arteria
Fernanda Karolys – Vago Desiertos
María Fernanda Karolys is one of the most powerful and iconic Ecuadorian female voices. After a strong career that has seen her play with bands such as Pulpo 3, Nortec Collective Presents: Clorofila and Helios Jive, she is ready to present her first solo album and Vago Desiertos is the first single.
ENGLAND: Drowned In Sound
Douglas Dare – Swim
Radiohead's influence on modern music is enormous, but it's strange how little credit is given to Thom's solo work. The Eraser captivated the imagination of a generation of smart younglings in their bedrooms. Much like London's James Blake, Dorset's Douglas Dare climbed Harrowdown Hill and had the epiphany to use hints of light for shadow-play. It's little wonder this bloop-loving pianist has ended up on Erased Tapes, home to the likes of Nils Frahm and Ólafur Arnalds, who are set to release his debut album Whelm in May.
ESTONIA: Rada7.ee
d8p – Gather
d8p don't try to identify themselves by a niche or genre, but rather focus on creating a certain universal feeling, an atmosphere. Melancholic, longing, melodramatic, yet uplifting and danceable, d8p plays with the fine line between euphoria and sadness while also leaving room for surprises. Utilizing complex percussion, simple melodies and unconventional musical structures, d8p aims to take the listener to a place they find familiar yet full of new possibilities.
FINLAND: Glue
Captain Cougar – Rise
On their first two albums, five-piece Captain Cougar perfected rootsy Americana-influenced songs, but with their recently released third album, Åkerblomrörelsen, the band has created bold soundscapes embracing post-rock. Lyrically, it is also very ambitious as it is a history-related concept record that tells the story of Finnish evangelical cult leader and sleep-preacher Maria Åkerblom. Rise is a very good example of this bigger sound.
GREECE: Mouxlaloulouda
The Man From Managra – Praise The Lord
Aiming to explore the function of songs as a fundamental necessity of musical expression, The Man From Managra – the new project of Coti K. – conjures up music with a thoroughly minimal feel and austere arrangements, using a modified bass and his voice both deftly and as core elements. Check out Praise The Lord, a gripping and subtly beautiful song, based on a motorik rhythm, repeated simple phrases and Σtella's unique contribution.
INDONESIA: Deathrockstar
Cabrini Asteriska & Puti Chitara – Lokah Samastah Sukhino Bhavantu
Cabrini Asteriska and Puti Chitara are singer-songwriters who have played together since their childhood. After some shared travels they decided to form a musical project to express their life experiences. This song is a Hindu mantra in Sanskrit, may it bring more peace with you.
IRELAND: Hendicott Writing
Extra Fox – Come Together
Neil Adams' Extra Fox is one of several current side-projects from Dublin scene heroes The Cast Of Cheers, a smartly bristling bedroom electronica aside. Taking elements of his math-rock mainstay's choppy style, Adams' charmingly skittish beats and soulful melodies nod towards the neon lights of urban Japan. The man himself credits Com Truise and "that feeling like you're inside an 80s video game" with inspiring a new thought process. The album is available on a pay-what-you-want basis on Bandcamp.
ITALY: Polaroid
Flying Vaginas – Happiness And Flour
You could say that Happiness And Flour by the trio Flying Vaginas sounds nothing new, simply classic indie-rock with a long tradition: The Jesus And Mary Chain, Sonic Youth, Clean, Black Tambourine, you name it. Or, to quote some bands from the present: The Pains Of Being Pure At Heart, Crystal Stilts, Girls Names. What makes me particularly happy about this wonderful song is that Flying Vaginas know how to speak the international language really well, and it doesn't happen very often around here. Their great debut EP is also free to download via Bandcamp.
MALTA: Stagedive Malta
Blue Star – Shake It Baby
One of the many projects involving Andre Camilleri, the only record ever made by Blue Star is a five-track EP recorded in 1998. Camilleri spent many years busking on the streets of Berlin and Valletta. While in Malta, Andre put together a five-piece band which included Ian Schranz and Mark Sansone from Beangrowers, resulting in a number of well-received gigs and a self-titled EP. Andre is now based in Australia, his output remains prolific and we've lost count of his numerous recordings.
MEXICO: Red Bull Panamérika
Ponce – El Muerto
Leonardo Kin Ponce's interest in the paranormal was expressed in his music while in his previous bands Timmy & The Monsters and Ghostcatcher. Now he has been working on Ponce, a solo project based on pure Spanish vocals and some IDM elements. His first single El Muerto follows that line and it has been released with some remixes that emphasize the dark, daily aspects of one of the most fearful ideas of existence: death.
PERU: SoTB
Bondage – Un Video De Los Dos
From Trujillo, a beautiful city in northern Peru, comes one of the most interesting and provocative rock bands in the country. Bondage was formed by Juan Carlos Paredes, who created his style from punk and garage-rock. Un Video De Los Dos is taken from his first album released last year, which has a lot of sensuality and distorted guitars.
PORTUGAL: Posso Ouvir Um Disco?
Sequin – Naive
Sequin is the solo project of Ana Miró, an extremely talented vocalist who gives new meaning to the blips and bleeps of early 80s electronic music and has a sound reminiscent of the debut albums by Soft Cell and Depeche Mode. However, Sequin, who recently opened for Warpaint in Lisbon, will also be loved by those who are into more recent bands such as Ladytron. Naive is taken from her album Penelope, out on April 21.
PUERTO RICO: Puerto Rico Indie
Necronazis – Peligro De Muerte
Necronazis are a fixture in Puerto Rico's punk scene and although not as active in recent times, the band makes sure they play a few shows every year for their faithful fans. The group's different line-ups read as a genealogical tree of the local scene, including long-standing members Giancarlo Cervoni and Sergio Narváez, both former members of Dávila 666. To honor this seminal band, new independent label Discos Diaspora launch Antología on April 19, a limited edition tape compiling Necronazis' recorded output in its entirety.
ROMANIA: Babylon Noise
Theory Of Mind – I Felt The Sun
Cluj-based band Theory Of Mind has built up a large fanbase in just a few months. A dream-pop group with psychedelic and experimental influences, they have shaken the foundations of Romanian music – for good.
SCOTLAND: The Pop Cop
Fatherson – James
Fatherson are idols to many in Scotland and, having just released their debut album I Am An Island, now is the perfect time for the rest of world to catch on. Their music is more accomplished and rewarding than you might expect from a rock band in their early 20s. There are no unfocused thrashy rackets here, just considered creativity and a very intelligent approach to dynamics and song structure. MAP exclusive download James has all the crescendos, singalong verses and punch-the-air choruses you could ever wish for.
SOUTH KOREA: Indieful ROK
Saram12saram – Raindrop, Cloud, Typhoon And The Sun
Saram12saram had been teasing with alluring electronic tunes on SoundCloud a year before the release of the duo's debut EP. Raindrop, Cloud, Typhoon And The Sun finally came out at the end of 2013 and a few weeks ago it became available on vinyl. The title track puts the esoteric female vocals first, while the music produces an ambient dreamscape that leaves you wanting more.
SPAIN: Musikorner
HUIAS – Dealer
HUIAS is a duet from northern Spain formed by María Lastra and Alejandro Santana. In 2012 they released their first EP in which they mixed guitar arpeggios with electronic arrangements, keeping folk tradition in mind, but now they are comfortable in the dark side. Their music is mysterious, dreamy but dark. Dealer is the first single from their forthcoming debut album.
UNITED STATES: We Listen For You
The Deloreans – As Long As It's You
On their fantastic new single, As Long As It's You, The Deloreans find themselves crafting a slow driving tune with multiple small flourishes coloring the entire sound-space. The vocals are confident and overflowing with emotion as drum kicks and a grandiose chorus keep elevating the constantly evolving song.