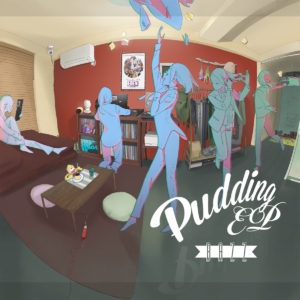 And we are back to (hopefully) regularly scheduled posting. Hoping to get up a "what we missed over the vacation" post soon, but first, some new Maltine.
What better way to start 2017 than with a double does of diso-influenced electronic music from Maltine Records? Producer Bazz has been a contributor to the netlabel several times — last seen remixing The Hair Kid's "Plastic New York" — but these new EPs mark Bazz's first solo output via the digital imprint. Pudding is the set that makes you understand why he put "disco" before his name on SoundCloud, featuring mid-tempo melodies and shimmering synth. The semi-title-track features a restrained vocal performance from (list-making act!) Wata Megumi, who glides along with the breezy beat and sounds content rather than unnerving (as she does on the bulk of her solo work). "Bennu" comes off as more disjointed — the clattering! — but all the jagged pieces come together just right to form something resembling a fragmented Omodaka (or scrambled dancefloor Vocaloid). Get Pudding here.
EP Sun Of A Gun, meanwhile, offers a more challenging set compared to Pudding's disco-glazed cuts. This is made clear from the get go, on the eleven-minute-and-a-half title track, a house-influenced slow burner featuring pitch-shifted passages, laser bursts and an atmosphere best summed up as "standing outside on a humid day too long." But Bazz keeps everything moving, and makes the final stretch — a departure from what came before — all worth it. Get it here.