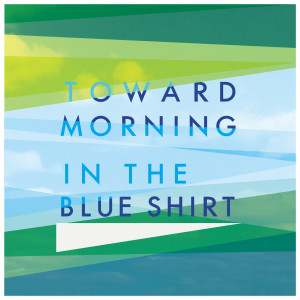 I don't go out to as many live shows as I used to, partially because I'm trying to be more responsible with money (ahhhhhh, the days where I would pay the equivalent of $40 for a taxi to go home because I was sleepy…so young! So stupid!) but also because in general it is easier to enjoy music at home. Still, I went to this event recently, and loved it. It delivered what I hoped for — a bunch of artists I loved (bo en, LLLL, Parkgolf, Tomggg, etc etc) did what they do and made me smile like a big ol' dummy. I was ready to go home feeling good when In The Blue Shirt went up to close out the night. He's been one of the best remix artists out of Kansai in recent years, with plenty of strong originals to his credit too, and I expected a nice comedown to end the evening.
Nope, his set was the highlight of the whole night, and revelatory. After a whole afternoon of high-tension electronic music, In The Blue Shirt capped it off with the most frantic yet, one full of pitched-in-every-direction vocal samples tripping over one another. Dude even looked like he entered another level of awareness, totally lost in the moment. I've been geeked about what he'll do next…and here it is, the three song Toward Morning collection.
And right away, In The Blue Shirt shows off how versatile his voices galore approach can be, as the title track is an easy-breezy number featuring light pings and an electronic keyboard solo that deserves to live at a Dodger Stadium day game. The next two songs deliver the more manic goods — "Fool" features samples of acoustic guitar strums and dreamy keyboard dapples, as voices ripple off, bringing to mind a more sugar-addled Taquwami (high praise, indeed). And like Taquwami, the vocals snippets create their own sweet language, one where comprehending what they say isn't as important as how they sound. Closer "Buttercup" is the lampshade-on-the-head moment, the words clear and all about hitting the dancefloor and "getting your body popping." If seeing In The Blue Shirt live made me think he was one of the best uptempo producers secretly going in Japan, Toward Morning proves me wrong. He's way more versatile, and fingers crossed he's not slept on. Get it here, or watch the video for "Toward Morning" below.