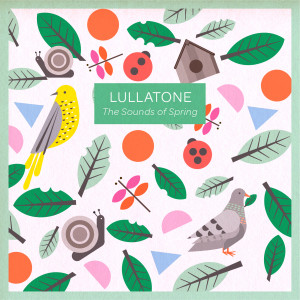 And so, Nagoya duo Lullatone's seasonal exploration comes to a close with The Sounds Of Spring. Lullatone have always been good at memorializing the small details of life, drawing out sweet emotion from the sort of things that often get ignored (while also not going overboard about it — when they made a song about a plastic bag caught in the wind, it was a breezy bossa nova reflection, not a puffed-up "what does it all mean?" deal). They are a group chronicling and celebrating simple joys.
I tend to paint past seasons with broad strokes — Fall 2014 was The Best Season Of My Life, but Winter 2013 was An Existential Nightmare. I focus on just a few events, ignoring all the little details that always come around year to year. Lullatone, though, build little odes to those rituals, and actually incorporate sounds from the season into them. For Spring, that means bird sounds from a nearby park. There's whistled reflections of "Waking Up On A Picnic Blanket" and fidgety odes to "Perfectly Organized Cleaning Supplies." There's child-like wonder at seeing "A Sky Full Of Hot Air Balloons," and…whoa, where the heck did that thump on "The Very First Palm Tree Of Spring Break" come from?
Lullatone has summed up their music better in the past than I ever could…it's a soundtrack for everyday adventures. Spring wraps up (well, presumably wraps up) the pair's exploration of the seasons, the end result being four very good EPs celebrating the repeat pleasures of the calender year, the stuff that often gets lost in the tumble of bigger things. Get it here, or listen below.