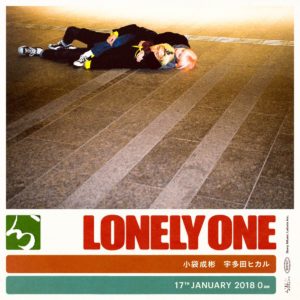 Few artists can point to a co-sign from Hikaru Utada ahead of their major-label solo debut, but Nariaki Obukuro has got it. And if more artists like this are going to creep closer to the spotlight, the widening of the J-pop industry is only proving fruitful. Obukuro co-founded Tokyo Recordings and has worked under the name OBKR (taking part in the best GAP ad I've seen since Daft Punk was in one), and guested on Utada's Fantome. "Lonely One" acts as the advance single to his April debut, and is a chilly R&B number putting his voice — sometimes multi-tracked to sound like some sort of digi-frayed thing, adding a nice weirdness to the song. It crackles and fizzes, letting little moments of release come in, but never actually letting them stick around long, keeping everything flowing nicely. And then it transforms into something else entirely completely in its final stretch (sounding…kind of like Megumi Wata?), with piano, strings and horns. Hey, when you have that Sony budget, go for it.
Oh, and Utada stops by for a guest verse. Craziest of all? This is the best she's sounded since coming back in 2016. Fantome is a flawed but fascinating personal album, while the singles that have come after have felt a bit too straightforward (that one was a soundtrack for water is pretty telling). But she just kills it here, with a brief but powerful little injection which finds her pushing towards her upper register and breaking into a fast-paced delivery bordering on a rap. It adds this emotional dynamite to "Lonely One," and instantly pushes Obukuro's debut album near the top of the year's most anticipated.
One hitch…you can only hear it on streaming services! So jump on Apple Music or Spotify, fire up a VPN maybe? and enjoy.