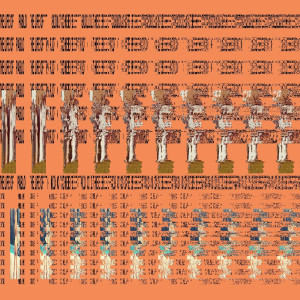 1. Imagining "The Life Of Pablo is an exploration of digital-age contradictions. Its genesis — Kyoto producer Toyomu couldn't listen to Kanye West's The Life Of Pablo because Tidal isn't available in Japan (and, if Toyomu is anything like me, hunting down pirated files is just too much work in 2016), so he imagined his own version of the album — highlights that as much music seems accessible thanks to YouTube and streaming services, it's also easy for labels (or Yeezy) to block access to music. Yet Toyomu pieced together his Life using sites such as Genius and WhoSampled, digital places allowing access to all sorts of music-related information. And of course it is currently hosted on Bandcamp. Now, you can hear Kanye's latest on Apple Music Japan — and who knows, a physical edition could be coming soon — but when this emerged in March, it seemed like it might never reach this side of the world.
2. Whereas Toyomu's reworking of Hoshino Gen's Yellow Dancer from earlier this year played around with the actual sounds found on that album, Imagining simply imagines what Kanye's latest opus could be like. It's musical Pictionary — the details are given to Toyomu, but it is up to him to piece something together. It's a disorienting collection, gospel choirs and piano colliding against skittery beats and MacBook voices reciting Kanye lyrics (some of them translated into Japanese, as on "I Still Love K.A.N.Y.E"). It's the sound of hearing about something incessantly, but not knowing what the actual contents are.
3. Another pitfall of the Internet is attention. Imagining came out in mid March, but slipped by unnoticed (including by this blog). Yet today it suddenly got heaps of attention via Pigeons And Planes, who did a post about it. A few other sites jumped on the story, and though Toyomu still has a while to go to reach peak meme, he got a nice boost of attention from this.
Why, though? It's tempting to tie it to the classic "weird Japan" archetype, a form that still works wonders in the click department. But this instance is all about familiarity — the hook here isn't "Japan," but "Kanye," and any new framing of that name would be welcomed in an online climate where big names always trump small ones. It has its ups and downs — obviously, Toyomu gets way more exposure, which is great. Yet it's also a reminder that only a handful of name can truly attract massive attention. See also the biggest Japanese group going, and getting plenty of attention this week, Babymetal.
4. I listened to half of Kanye's latest yesterday, it was pretty good.
Get it here or listen below.