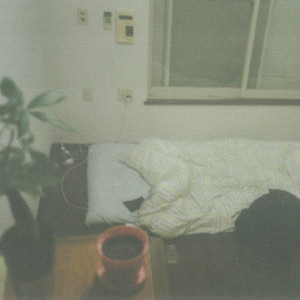 Oftentimes, bedroom recordings carry a sweet, dreamy quality to them, possibly because being in a confined place (like a bedroom) forces one to imagine there ideal world. Even dark home recorded stuff — in Japan, that would probably be CUZ ME PAIN, or at least what they were up to a few years ago — carries a sense of escape into someplace new. The most negative it tends to get is a clear sense of longing for something else pops up. But even that feeling carries hope that something better can be reached.
I Don't Wanna Die in Here is not one of those bedroom recording projects. It takes a slight leap of faith — all I have to go off of here is a Bandcamp page and an author-added note that whatever this is is based in Sagamihara — but whatever this is, it is cloistering, weird and deeply charming. The name immediately dispels any notions of romantic bedroom producer-dom, because the "here" seems to refer to whatever apartment complex nook or broom closet these four songs were recorded in. It sounds extremely cheap and at times goofy…second song "Stop Fight" is a bouncy number playing out an argument (in English) featuring lines like "suck it up/you piece of shit/I know exactly what you did." The next song is a suffocating song about abandonment where one of the singers gets right next to the mic.
It's strange, put I Don't Wanna Die In Here also have a knack for off-kilter pop, approaching the days when Ariel Pink used to record his body noises in a closet. Every song leaves a hooky imprint, but opener "Haunted By Other Force," with its digi-horn blurts and Casio beat stands out the most, because wrapped up in all of that is a sweet, tough to make out vocal line. Whatever this album's deal is, it sticks with you in a way most bedroom pop doesn't. Get it here, or listen below.