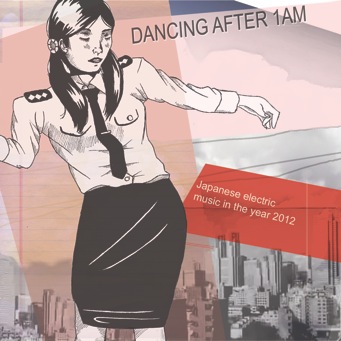 Call And Response Record's new compilation album Dancing After 1 AM didn't need a hook to grab our attention. The 18-track album (full disclosure: released by our friend Ian Martin) features new songs from some of the best rock artists going in Japan. She Talks Silence contribute a shadowy guitar number, while The Mornings jerky "Fuji" wouldn't have felt out of place on last year's manic Save The Mornings. It also features the likes of POP-OFFICE, New House and Tacobonds working from their respective comfort zones. One of the best songs come from someone we've never written about before – Extruders hushed "Collapsing New Buildings" is fine-tuned minimalism, every near whisper and guitar stroke vital to the song's atmosphere. Even Puffyshoes show up for one minute.
Dancing After 1 AM does have a hook though – the album features the first new song from new-wave duo MIR, who seemingly fell off the grid two years ago. They are back, at least for this Call And Response collection, with "Dance," a song highlighting everything great about them in just over five minutes. The synths and beat lock into a groove, but MIR always keep something back. Makes sense since the singing on "Dance" never sounds particularly upbeat – the reserved bounce of the music matches up well with the nearly sighed vocals. Their ability to pull off sad dance music that still shuffles onward is something we've missed a lot, and they are just the most noteworthy inclusion on a compilation brimming with good artists.
Call And Response has listed several places you can get the compilation, check it out here.