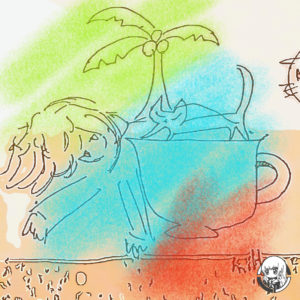 — The latest from Omoide Label comes via Fa-mi in the form of the quick hit Oriental, a tropical-leaning set of body-moving dance tunes. "Thank You" sums it up pretty well, letting sunset-ready synth notes play out over strums of acoustic guitar and a persistent but never pushy beat. "Hallo" and (especially) "Flower" bring a little more energy, flashing moments of outright release, but without ever tumbling over completely. A good starting point for the artist, though here's hoping they add a bit more to it going forward — maybe a little too chilled. Get it here, or listen below.
— The year isn't even a month old and Oyubi just keeps bringing the heat. "Oh F" offers a high-energy run punctuated by some sampled yelps and a bob-and-weave rhythm that lends to the sweaty feel the track maintains for its playtime. And, as the young producer has done so much in the past year, the song moves through various passages while always maintaining the same energy. Get it here, or listen below.
— Now for something with a retro edge to it. Stones Taro and Lo-Max team up as House McGwire for "New Old School," which is far closer to the last two words of the title than the first. It's a nice bit of slow-burning dance for those enamored with yesteryear, and while it lacks the blurry out-of-time vibe of other NC4K offerings so far, it does serve up a very groovable nostalgia. Get it here, or listen below.