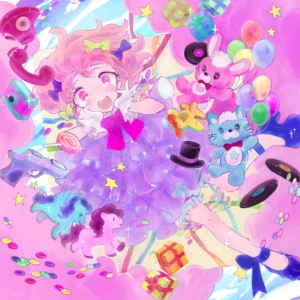 On the one hand, boiling "kawaii" down to one specific sub-style of music is not easy to do. On the other hand, there definitely is a wave of artists embracing cute and fluffy sounds, both in Japan and abroad. With the former, a lot of kawaii-approrpiate numbers have come out recently, so here's a quick round-up:
— Via Maltine Records, Chiba producer Yuigot shared a new album of hyper-bright electronic tunes titled Magic Magic Magic EP. Yuigot splits the collection in half, with the twinkling chimes dominating the title track and "Crazy Sprinkle Friends," which features an appearance from YUC'e (whose "Future Candy" is one of the biggest songs around in terms of defining what "kawaii" — or "kawaii bass" to be specific — is all about. Yet Yuigot also gets into some mad-cap sampling on the other half of the EP, stringing together cartoon sound effect and hip-hop samples to create dizzying little numbers that aren't pure sugar. Get it here.
— From producer Capchii comes something a little harder-edged, but still mostly shiny. "Sparkle!!" matches synth chips up with bass freakouts, a common approach in this sub-realm, but one that the artist handles well. Especially for over five minutes. Listen below.
— We don't write too much about idol music around these parts anymore for a plethora of reasons…still making peace with no more Especia, probably…yet here we are, turning to Sapporro trio Miss Carat who deliver us a throwback of sorts. That's because they've gotten Yunomi to handle production, recalling the idol boom days when fledgling outfits routinely called up more underground trackmakers as a way to stand out (and save on the budget). Or, you know, it recalls BPM15Q, which Yunomi also worked with. Listen below.
— Last, the biggest producer of the bunch Snail's House released his new EP Pixel Galaxy. It is brief, three songs total, but shows off his chiptune tendencies. Get it here.