Cloudy Busey "Who Says They Love You"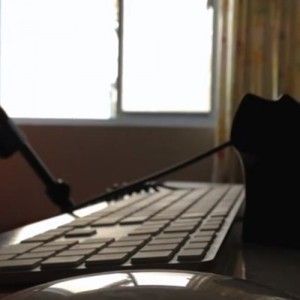 Osaka's Cloudy Busey started the year with the long, lonely walk home anthem "Up To You (If You Love Me)" and later released "Have U Ever," which he said would be perfect for Justin Bieber. Between those two, the Ice Cream Shout frontman who also records under the name Bobcat dropped "Who Says They Love You," which summed up his output in 2012 the best. "Who Says" took sonic cues from dance music, but used house elements to build a pop song complete with a catchy chorus. Like his other releases this year though, "Who Says" contained a less-than-thrilled emotional side, highlighted by the hook's cry of "what I would give to have a dream without you." If "Have U Ever" was a song built for Biebs, "Who Says" could only reach its full potential via Busey's too-busted-down-to-care delivery, which is the sonic equivalent of a shoulder shrug but a deeply familiar one.
Occult You "Cassette Girl (Minami)"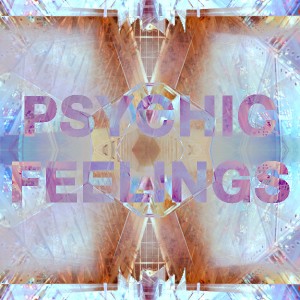 Tokyo's Taquwami had a better collection of songs – the dizzying Blurrywonder, which turned second-long, often chipmunk'd vocal samples into romantic ecstasy –but his best song of the year came early in 2012, under his Occult You moniker. Given the fluid direction Taquwami's sound takes from song to song, laying out the differences between the Taquwami project and Occult You can be daunting – I tried, and failed, with friends at multiples times this year, settling on a weak "uhhhhhh Occult You is easier to dance to" defense. "Cassette Girl (Minami)" manages to highlight the unique aspects of Occult You better than anything I could spit out, being both funny (check the smooth-jazz-worthy guitar that creeps in) and sentimental (the vocals, the synths, even the smooth-jazz guitar), and hey also being really dancey. The real difference, though, is that this is less blurry, Occult You creating a well-produced dance track that's just wonderful.
Cuushe "I Dreamt About Silence"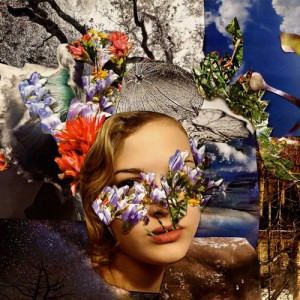 I moved to Tokyo in April, and I don't think I've really stopped being in motion until this Christmas vacation spent back in America. My new life has been defined by meetings and Hyperdia-generated train schedules, as I always seem to have someplace I need to be or something I need to do (or I should do). Free time – nothingness – has become a rarity, something I simply don't find myself being able to make time for. It's not all to blame on geography – I tend to squander whatever free seconds I have online, trying to keep up with web-based discussions on whatever social-media network occupies my current tab – but the pace of life in the city is a far cry from the life I knew in the country, or even a sleepier metropolis like Osaka.
I listened to Cuushe's "I Dreamt About Silence" the same way I heard most music in 2012 – on the morning train to work, squeezed between others fitting in a YouTube video or an article before life got busy. Those minutes on the way to my job were some of the only I had during the day, and I spent many of them listening to the best track from a trilogy of songs obsessed with empty space ("9125days Of Sleep Waves" and "Do You Know The Way To Sleep"). "Silence" wishes for – doesn't find, mind you – silence, Cuushe layering synths and her own voice over one another to create a lush bubble of sound that seemed appropriate on the crowded subway. Her words were often hard to make out, but the way they flowed out implied a longing for quiet, a place to meditate. The end of "Silence" offers a flash of hope, but even that was noisy. It's one of the year's most gorgeous songs, even when ripped from any personal context – Cuushe's work in 2012 sounds like the flip-side to the darker, unsettling sounds of 2011's Neon Cloud, an outfit I have a suspicion Cuushe was behind – but for me personally, it was an anthem to an often exhausting year.
Root Thumm "Simple Life"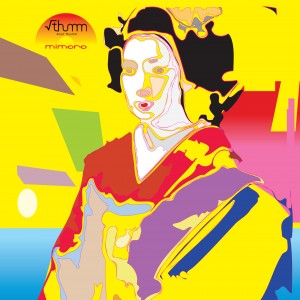 While we are on the topic of songs that touched on what I…and I'm sure a bunch of other people…craved in 2012, Root Thumm's self-explanatory "Simple Life." Sonically, it's the most drastic departure the Nara three-piece have ever made, eschewing the DIY-Nakata sound they've ridden for the majority of their career in favor of a more minimalist sound approaching easy-breezy indie-pop (specifically, "Simple Life" recalls the synth-heavy experiments twee-leaning outfit 800 Cherries explored in the mid-90s). This shift, though, results in Root Thumm at their most sincere, all that space allowing the group's pastoral lyrics to hang around in the air. The words switch between natural images – blue skies, storms – and more personal aspects of one's life, like friends and memories. The way it all unfolds is so tranquil, so drastically different than the urban hustle-and-bustle the world is heading towards, as to be a dream. Really though, the chorus sums it all up – "I love the simple life."
mus.hiba "Magical Fizzy Drink"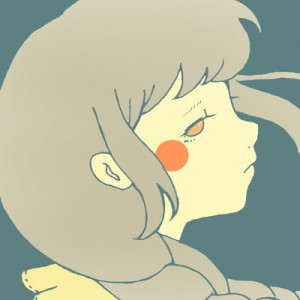 Even if you ignore the specific instrument mus.hiba used to construct "Magical Fizzy Drink," it's still one of the year's best songs. It's a woozy song with an amazing attention to detail – the piano lurking beneath all of the digital unease, the mutating beat, the 8-bit blurps that only appear at the very end of the song. The mono-syllable singing is simple but captivating, regardless of where it comes from. Sonically, nothing sounded as purposefully unbalanced as this – I'm writing this blurb from a boat, and I now truly understand the word "sea sick" and this is as sea sick as it gets. It's a wonderful piece of post-CUZ-ME-PAIN production that would shine regardless.
Yet the voice at the heart of "Magical Fizzy Drink" comes courtesy of Vocaloid, specifically Sekka Yufu, and mus.hiba's offered up one of the most experimental – and best – uses of the singing-synthesizer software yet. The past year saw a lot of people using that technology in exciting new ways – whether it be Isao Tomita's Vocaloid symphony, a Vocaloid opera or kz's pure-pop adventures – yet none were as daring as mus.hiba and none were better (further evidenced by a long-ignored Nico Nico Douga page full of equally great tunes from the young producer). Vocaloid remains one of the most fertile artistic arenas around in Japan, and mus.hiba was making big moves with it.
Mass Of The Fermenting Dregs "Tantantan"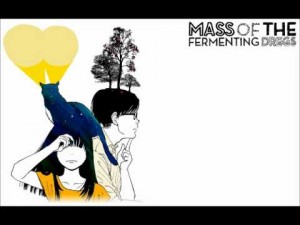 Mass Of The Fermenting Dregs called it quits in 2012, leaving behind a strong albeit small legacy highlighted by 2010's face-crushing album Zero Comma Iro Toridori No Sekai. They said goodbye with "Tantantan," a brief track that managed to capture everything about the outfit that will be missed immensely moving forward. It's a song both soft and forceful, moving along at mid-tempo until the band adds exclamation points to the verses with shouted passages. Yet they never turn too aggressive…well, until the cathartic last minute…instead finding a balance. It isn't a grand finale as much as a reminder of what Mass Of The Fermenting Dregs brought to the Japanese music scene, and as a final statement it couldn't be better.
Nanba Shiho "Shoujo, Futatabi"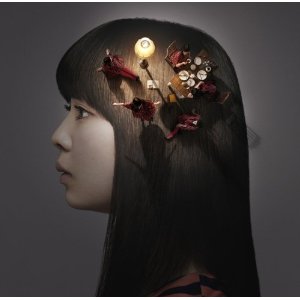 Néojaponisme recently wrote a year-end feature that opened with the declaration that 2012 was the year that "nothing happened" in Japan, while later down our friend Ian Martin wrote that mainstream Japan's musical feature appeared "dismal." I don't really disagree with either of these statements, yet I also think it's time we change our thinking about Japanese culture a bit (and I do this a lot too, so I'm not just pointing fingers at others). Hunting for a grand narrative – whether it be for a month, year or beyond – is causing people to miss out on the real story going on in Japanese culture (and all culture, really), which is total fragmentation. The golden age of J-Pop in terms of sales has long passed – so why give the Oricon charts so much sway in the music we talk about? They are still important, I admit, but also so narrow, and focusing just on them is causing folks to miss out on all the interesting pockets of culture (especially J-Pop) going on right now.
Basically, I think a whole lot of interesting stuff happened in J-Pop this year, just outside of the Oricon frame. Nanba Shiho's "Shoujo, Futatabi" slapped me out of my brief cynical period with J-Pop back at the end of January and remains one of the year's best singles (although her later single "MUSIC" comes close to knocking this one off). It's a very simple song, built from very few parts but making each one of those elements count. It blurbles to life and moves forward on a simplistic, high-steppin' beat that would make Yasutaka Nakata proud. It features synths that could have come from a Maltine Records release. It's ultimately a ballad that refuses to be typical, the folks behind this song avoiding the path of maximum boredom in favor of creating a subdued electro-pop song that hints at a future for J-Pop that requires no major facelifts but just a refusal to phone it in. Naturally, this didn't make a dent on Oricon, but this doesn't bug me because this filled me with hope for the future of Japanese music, and that means a lot.
Turntable Films Featuring Predawn "Animal's Olives"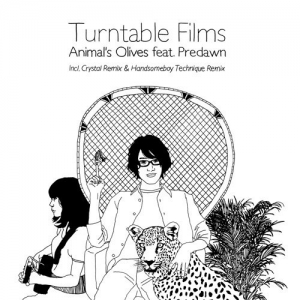 Honestly, I don't know where Kyoto's Turntable Films go from here. "Animal's Olives," the almost eight-minute-long highlight of this year's Yellow Yesterday, towers so high above the rest of the group's output to almost make it mute – and this isn't a dismissal of what they've done before. Turntable Films have graced previous Make Believe Melodies' lists with Brian-Wilson-inspired pop jams and minor key folk songs, and their debut full-length album this year was a very strong collection of uptempo pop and folk numbers. This is a very talented band…but "Animal's Olives" sounds so good as to make me forget everything else they've ever done. It's an unexpected song – it is one half Krautrock endurance test, one half psych-out in the vein of a Yo La Tengo album closer (that's some high praise). Yet despite on paper sounding quite difficult, Turntable Films grace "Animal's Olives" with a catchiness and relatability that makes it all the better (the opening line of this song is "I catch the regular train/like always," about as mundane as it gets – before going all magical realism on the listener). The other great decision present here was having wispy folk singer Predawn join lead singer Yosuke Inoue on the vocals, the combination of their voices lending this an even dreamier atmosphere. I don't know how they top this one, but if they try they are braver than most.
Perfume "Point"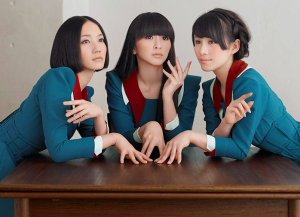 The biggest trend in pop music in 2012 was the rise of EDM (mainly "brostep") and the way it spilled in to all pop music. Skrillex became a household name, Bassnectar sold out huge shows and "Levels" became this generation's "Sandstorm." Soon, wub-wub bass was popping up in Taylor Swift songs and commercials for cookies, and EVERYBODY seemed to be getting in on the EDM game. Japan, although not as consumed by the drop, also began embracing – Koda Kumi's Oricon-topping "Go To The Top" took cues from brostep, Ayumi Hamasaki included a dubstep remix on her latest mini album and a small but vocal Skrillex-loving underground sprung up.
Yasutaka Nakata probably deserves some credit for being ahead of this development, and not just because one guy totally took moves from Capsule for his EDM jam this year. His music under the Capsule moniker has approached the aggressive, dance-centric vibe of EDM today, and this year's Stereo Worxxx probably could have fallen under the EDM umbrella if it ditched the poppier songs. His most talked about – and debated – song in 2012 came courtesy of pop trio Perfume, with "Spending All My Time," a song that took inspiration from Calvin Harris (or, if you have only listened to American pop music for the last 12 months, "Starships") in an effort to help make Perfume more internationally known. It's a very good song that has unfairly been judged based on what it sounds like (and the coolness of what it sounds like) and not Perfume's most daring moment of the year.
That honor goes to "Point," which finds Nakata one step ahead of the majority of the world's current EDM crop. The song incorporates a drum 'n' bass beat, something that pops up in a lot of contemporary electronic music, but rather than surround it with the aggressive and at times lunkheaded flourishes so many producers have turned to (WUBWUBWUBWUBBBBB), Nakata goes at it in a more delicate and bubbly fashion. "Point" features plentiful harp, the sort of synths that demand inclusion in an alcohpop commercial and lyrics that long for a moment to last rather than as a call to get fucked up. The chorus, which is where the drop would be in a lot of EDM songs, starts with a line about how "a light breeze blows." "Point" opens up the sound of EDM a bit, making it a bit friendlier and catchier without ever really deviating from the Perfume sound. Nakata had a big year, and this was his highlight, a song that should hopefully become inspiration to many producers put off by the at-times idiot masculinity of arena-filling dance music today.
Sugar's Campaign "Netokano"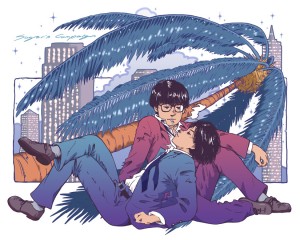 For me, 2012 goes down as the year J-Pop…or at least J-Pop just outside of the mainstream (save for Perfume, Kyary Pamyu Pamyu and uhhhh AKB48)…tried to forge new sonic paths forward, more artists and producers trying new things sonically. I'll also remember it as the year a huge chunk of Japanese indie music turned towards the past, highlighted by the boom in indie-pop that worshiped at the altar of Sarah Records and the C86 tape. This list isn't numbered, but if it were Sugar's Campaign "Netokano" (strangely enough, the earliest song released in 2012 on this list) would take the top spot as it found a glorious spot in-between pop futurism and retro throwback, the song itself showing it's possible to respect the past while blazing forward.
The futuristic elements of "Netokano" aren't surprising given who comprises half of Sugar's Campaign – beatmakers Seiho and Avec Avec have been major players in both the blooming Kansai electronic scene (anchored by the INNIT party and Seiho's own Day Tripper Records imprint) and the always wonky Maltine Records realm. Both produced amazing solo records in 2012 – Seiho's spacey Mercury is one of Japan's best longplayers, while Avec Avec's various single releases and remixes continue to establish his joyful, colorful approach to production. The two teaming up produces some predictably cool results on "Netokano" – the synths sound like the big rainbow electronics Avec Avec breaks out live while the drum programming brings to mind a slightly reeled in – but still catchy – take on Seiho's solo singles. This sounds like the Kansai electronic dance scene gone pop, and it's a great turn for them.
Yet this song hides way more appreciation for the past than its beat-scene-inspired production hints at. I talked to Seiho back in February, and he said "Netokano" was a stab at "true pop music" in the vein of older performers like Tatsuro Yamashita and Toshinobu Kubota. These are artists who were releasing pop music when Seiho and Avec Avec were growing up, who had released well-known albums that either artist could have found in their parents' record collections (I found a bunch of Yamashita albums in my closet when I lived in Mie prefecure). The funky pop sound both carved out during their primes – check this – gets updated in 2012 by Sugar's Campaign. "Netokano" is a song built out of love for pop, and not just the old stuff – the pre-chorus bit re-imagines the sentimental chorus from Hikaru Utada's "First Love" as something tipsy and fun, changing words but still sounding familiar.
Most importantly, all of Sugar's Campaign's futurism and retro looks sound like dizzying fun, summed up by those delirious "la las." Seiho says Sugar's Campaign wants to get signed to a major label and I really hope that somehow happens, because "Netokano" is something I picture blowing up, hitting on the nostalgic sounds and electro-pop leanings dominating the Oricon charts today. But above all else, it's just a really fantastic celebration of pop and everything it can be.