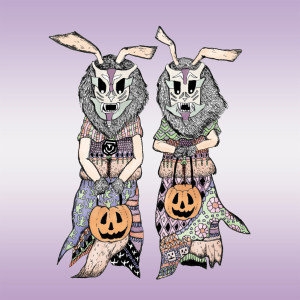 The first six albums on the best-selling page for "Japan" on Bandcamp feature zero Japanese artists, at the time I'm writing this. At least that's how it seems — this Atlanta metal band's latest is being released by a Japanese label, so that at least makes sense, and I'll err on the side of caution with anything "vaporwave" because there is a one percent chance it isn't some teenager using Google Translate (but not higher!). Let's forget about the quality of the music for a second — assuming the best intentions of using Japanese characters and tagging your music as "Japan," you are still ultimately taking attention away from actual Japanese artists which…seems sort of lame.
The seventh best-selling album at the moment comes from Serph, a Tokyo producer who has been making music since 2009 and who released a very good album earlier in the year. His latest is a special Halloween-themed pair of songs called Phantom Topology, and despite the seasonal connection both tracks avoid novelty in favor of highlighting Serph's criss-crossing approach to music. "Smile Ghostly" features a lot of vocal samples whizzing by, tied with some acoustic strums that eventually explode into an electronic surge. "Pumpkin Requiem" is even more reliant on samples, and of suddenly shifting a stretch of piano playing into an electro hopper.
Phantom Topology uses samples — alongside original noises — to create something dizzying, one where every sound falls into place just right, and where aforementioned samples do more than just merely…be samples, which is something a lot of the releases crowding the Bandcamp best-selling "Japan" page could learn from. Get it here, or listen below.