#20 Chelmico Fishing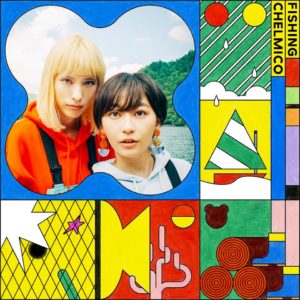 Take a moment to appreciate how timing really is everything, and how many artists could have shot down a different path entirely if you wind the clocks back or forward just one year. It's not hard to picture a reality where Chelmico are closer to idols like Lyrical School or Rhymeberry if they emerge closer to AKB48's peak, or they get pushed to be more traditionally hip-hop if trends break right. Yet the pair popped up at a sweet spot in the mid 2010s where they could develop their genre-hopping approach to rap, and when they did reach the majors they didn't have to fill any pre-determined boxes, but could be a social-media age take on RIP SLYME and Halcali's hip-pop.
Fishing is the pay off, a Warner-backed full-length showing Chelmico's versatility in all its sonic and emotional breadth. The duo's main inspiration point — the aforementioned RIP SLYME — can be a divisive one in how the J-pop up rap, with plenty to critique. Chelmico, though, nail all the positive points, glueing tag-team verses to earworm hooks. The backdrop doesn't matter, as they can dash alongside electronic skitters on "Exit" or work within the confines of something approaching eyes-down indie-rock on "12:37." The pop highs on Fishing are their best to date, highlighted by "Switch" and "Summer Day's" bounce-house energy, but it's the more deflated numbers like "Balloon" and "Navy Love," where Chelmico turn their usually chipper style towards heavier feelings that really make this album their breakthrough. It's them taking risks and not always hitting — no song on any album featured here or after is as bad as "Beer Bear" — but the willingness to go for it comes through clearly, and results in one of J-pop's brightest spots in 2019 and something perfect for the times. Listen below.
#19 Okinawa Electric Girl Saya And AX Chastity + Mayhem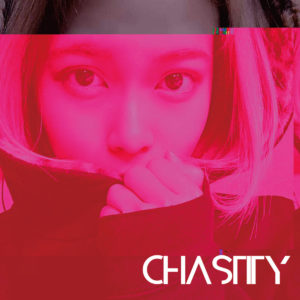 Focus put on Japan's experimental and noise music communities gravitates towards the old. The past 12 months saw two podcasts about Merzbow briefly emerge before the gruff distortionist expressed his hesitation. While that one probably says more about the impending podcast bubble than anything else, it was a reminder for many Japan's more left-field corners stopped in 2001. That's a little too cynical — hopefully, Foodman occupies the same space as, like, Phew, in 2044 — but still, in a year so focused on nostalgia for old Japanese music, it was nice seeing someone like Okinawa Electric Girl Saya keep releasing cacophony into the world. The idol-turned-experimenter transformed folk songs from her native chain of islands into apocalyptic releases and conjured up barely-there sine freakouts across a lot of releases this year, but these two Terminal Explosion albums made in conjunction with AX capture everything making her such an exciting name. Chastity gathers a bunch of guests to join in Saya's noise, ranging from Foodman to CRZKNY to Araki Takara, but solo creations like "Black Rain's" piano-powered unease and "Saya Goes To The City's" sweltering take on dance music that really underline her skill. Mayhem fills out that corner, with an especial focus on her dissonant and loud side. Get them here, or listen below.
#18 Mom Detox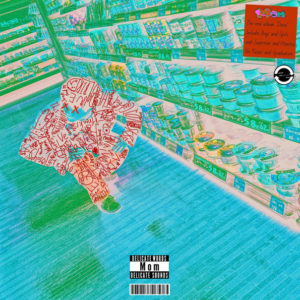 Actually, hold on a second, this one pairs nicely with….
#17 Native Rapper Trip
Genre as a concept isn't dead, and it would be a bit silly to lean in too much into that idea…at least for the moment. Thing is, younger creators from all over the world are less worried about genre, and what they should and shouldn't do. That's been especially true in 2019 — to the point of being exemplified by the most ever-present song in Western pop — and a trend all the more prominent in Japan, going from the top with Kenshi Yonezu and trickling down to performers like Mom and Native Rapper. These two don't sound alike, but they sound alike as well in how they openly play around with different styles to create something all their own…and aren't afraid to kick it up later. By the end of the year, Mom released an honest-to-god acoustic folk album, but before going full coffee house (for a little bit) he released Detox, a 15-song bout of whiplash swinging from skeleteal Auto-tune rap to jaunty pop bordering on regional theater. Still, the focus on Detox falls on hip-hop, whether delivered straight-faced on "6" or wrapped-up in springy pop like on "Boys and Girls."
As the name implies, that style is even more central to Native Rapper, but whereas Mom approaches music from a grab bag of influences you could easily find at Tsutaya, the Kyoto artist is grounded more in the world of netlabels. He's put out a handful of great releases so far, but debut album Trip works as the Native Rapper mission statement, with a shared interest in hip-hop, dance, synth-pop and references to golf course features coming across clearly. That he pulls in like-minded creators such as Yunovation and Lulu to help make this a reality hits even harder at the greater point of what's happening across the board. Mom and Native Rapper offer mid-level snapshots of a greater sonic trend, but few at any spot of the ladder did it with as much joy as these two. Listen to Trip above or get it here, and listen to Detox below.
#16 Le Makeup Aisou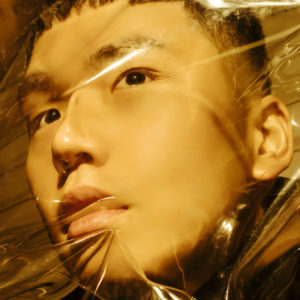 Trying to live in the moment is a doomed cause if you don't also wrestle with where you were — and who you were — in the past. Osaka's Le Makeup had a productive 2019, launching his own label called Pure Voyage (responsible for a very good, just outside of this list debut from Dove) and, in a collaboration that is jarring at first but makes a ton of sense the more you think about it, worked with rapper and Mall Boy gummyboy. His best moment came via his own project, which since 2017's Hyper Earthy has been focused on looking inward and capturing the everyday experience via synth haze, guitar strums and increasingly his own voice drifting into the center. Aisou only sees his own singing become more vital to the song, whether fading away in "Bangkok" or coming through clearly on "Horns" or "Delay." The guitar foundation remains, here adding an emo sheen, but those notes also get interrupted by scrambled electronics on "Delay" or distorted snippets of Shaggy's "It Wasn't Me" beaming across "Frosted Glass" and adding a weird feeling of something familiar mutating into something unknown. Aisou explores Le Makeup's entire musical history up until now, including early forays into Caribbean-born rhythms on standout "Galfy," which perfectly fuses his beginnings with who he is now. That's one of his most honest explorations yet, and gives Aisou even more weight. Get it here, or listen below.
#15 Suiyoubi No Campanella (Wednesday Campanella) And Oorutaichi Yakushima Treasure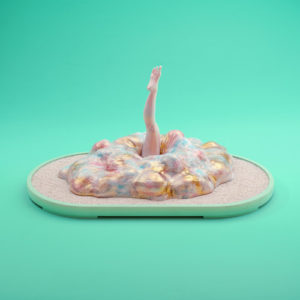 Gotta hand it to KOM_I — after nabbing something approaching mainstream attention in the mid 2010s with nervy dance-pop anchored by her rapped flights of fancy, she pivoted Suiyoubi No Campanella towards a space where she could actually sing over ornate Kyoto-indebted backdrops on last year's Galapagos, accessibility be damned. She went places even mistier and less occupied in 2019 — Yakushima, a green-blanketed island off Kagoshima, and YouTube Premium. Yakushima Treasure came coupled with an original series funded by the folks at Alphabet, and being behind one of the paywalls people seem least interested in entering made this collaboration with Osaka oddball Oorutaichi feel like a blip from a project that was formerly palling around with SMAP and Tamori. Not that ease of access would have gotten her back on Music Station. Yakushima Treasure is Suiyoubi No Campanella going off the grid to chant and explore ancient Japanese court music. "Underground Ritual" surrounds itself with the sound of waters and birds, giving the skitters and disorienting singing that follows a sense of place that makes their spiritual (or demonic) qualities all the more potent. "Vessel Unbound" is KOM_I singing over shamisen strums, recorded in what sounds like a found Walkman. "East" focuses this mish-mash of the old and the natural to create an out-of-time fever dream reminding how even KOM_I operating in experimental mode deliver more energy than most. Nostalgia is big all over right now, and the last 12 months saw notable dips into really old Japanese sounds courtesy of Minyo Crusaders and Meitei. Yakushima Treasure though offers a far better read on the ancient sounds of a place by being unafraid to let them morph into something different and strange, far more abstract than what they were, without ever pushing away. Suiyoubi No Campanella and Oorutaichi went into the wild, and came back with a gem. Listen below.
#14 Tsudio Studio Soda Resort Journey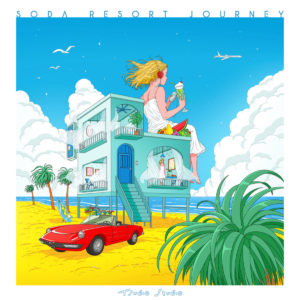 Once again, let's step outside, get some fresh air and go over the inner thinkings of the guy writing this an hour before he needs to be in bed. No album sparked more excitement over at Make Believe Melodies' headquarters like Soda Resort Journey. Tsuido Studio's Port Island already made my top ten last year, but time has only made that one feel like more of a revelation, the rare debut that feels like an honest shift in how nostalgia, the internet and vocal manipulation can be played around with to create something new that builds rather than exploits a past long gone. I really wanted to hear how Tsudio Studio would follow that up. Problem was, I had to wait to December to do that.
Just over a month later, and Soda Resort Journey sits at an odd juncture. It's the sound of Tsudio Studio polishing up their songwriting, and zooming in on Port Island catchiest moments to build something that's aware it will appear at Tower Records. It's URL going IRL, complete with ballads, multiples of 'em! Though they keep the fuzz around the vocals and the general sonic palette remains the same, which also makes this feel like Port Island blown up bigger. I'm honestly still not totally sure what I think of it — it could be a top-ten inclusion a year from now, or I would have just spun the first one 100 times instead — but I do know the highs hit on all the same thrills, and remind that whatever path they go, Tsudio Studio will kill it. Few can find a modern interpretation on city pop that retains the glitz while also making it apt for Reiwa like they do on the sax-accented "Kiss In KIX" and the rush of "Dragon Taxi," while also working so well with guests such as Yunovation (again! what is this, the tenth time she has showed up on a release on this list?) and Local Visions' crew Crystal Cola and Mandark. "Squall Lover" pushes towards spiritual experimentalism, while slow jam "Like A Ruin" gets…intimate? Here's the one thing I know for sure — Tsudio Studio is one of the most promising creators going as the 2020s get underway. Listen below.
#13 Sayohimebou Shenzhen DIVA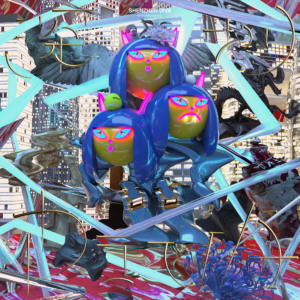 Mea culpa…I completely missed Sayohimebou's Crystal Aimai from last year, only coming across it after Maltine Records released Shezhen DIVA. That one is nuts, with its mix of hi-def electronic shrapnel and samples basically offering something that's close to Vektroid's god-level FACT mix. This shorter 2019 release isn't just landing this high up as compensation for my oversight — this one packs in Sayohiimebou's hyperactive genre-blending into a tight package, hitting on what would happen if French touch went through hyperdrive and what might happen if talkbox funk could be created through genetic engineering. Japanese electronic artists have been obsessed with texture and individual sound, and Shenzhen DIVA's take on this movement is to zoom into the very DNA of an ASMR video to figure out what makes everything tick. Best of all, trying to reduce it to just one thing proves near impossible, because it feels like almost everything. Get it here.
#12 CHAI Punk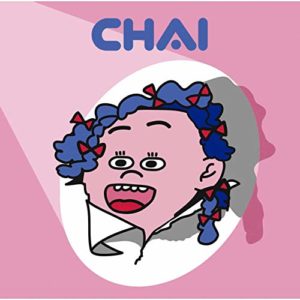 CHAI revel in gestures teasing nonsense that prove to be insightful. "That's a love song, yeah, but it's way too early for us to talk about loving someone else," the band told me back in 2018 about "Horechatta." "But we could totally write a love song about gyoza, which is something all of us love." On newest album Punk, CHAI have gone from odes to dumplings and fried food to self-love.
There's a lot to dissect when looking at how CHAI became one of the few contemporary Japanese artists going to get enough outside attention to warrant a Tiny Desk Concert and a Narduwar interview — you could squeeze some good newsletter writing out about their major-label in Japan/indie-label in the States approach, or how they reminded that the best way to get coverage from English-language websites is to go to them — but let's also not overthink it. On Punk they make catchy and slightly oddball songs about work and curly hair that are actually about modern-day struggles and embracing you for you. No worries if you missed it, because they wrap it all up in rock clap-a-longs, funk struts and keyboard woozers. Pink was solid, but everything goes up a level here, from the tongue-in-cheek new-wave freakout of "Great Job" to the locked-in chug of "Curly Adventure."
It's that extra dimension really ramping it up. Beyond the silly sampledelica and movie-villain cackles serving as mid-song interludes, Punk finds CHAI becoming more confident to move beyond more songs about food and bad boys in order to really dig into that whole neo-kawaii thing they bring up in interviews. This is an album about embracing everything you are both past, present and future (on, natch, "Future") without ever getting preachy about it. Rather, they just live this truth and show how fun it is to be you, curls and all. Listen below.
#11 i-fls Not Beautiful View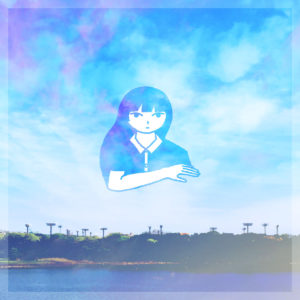 Convenience store…apartment building…bus stop…hair salon…another hair salon…school…city hall…train station. I've been in Tokyo for so long now that the scenery of the suburbs feels exotic whenever I'm zipping by it on a train or car. That was once my reality, though, when I first came to Japan and found myself living in a bedtown nearly equidistant between Osaka and Nagoya. Everything moves so fast in the capital…it's so cliche, but I do often look back on those days where I resided somewhere only known for having the largest salamander center in the country. It's not quite nostalgia, because that implies it was simple. It was quiet…not simple. If anything, that just made the thoughts all the more complex, and probably shaped me into who I am more than I ever could have imagined.
For the better part of this decade, i-fls has captured that bedtown ennui and ecstasy better than anybody, via simple melodies constructed in Garageband that reveal a lot of emotional depth. Selecting one single release to sum it up would be foolish, since this is a long-running project and my favorite series to come out of indie Japanese internet music since I moved here. Not Beautiful View isn't better or worse than anything that came before it, but it's like checking in with an old friend, or making a quick stop over in the quiet community you used to live to see how things have changed (or, most likely, not). Yet there's something extremely comforting in hearing those computer-generated melodies racing along, whether they spur longing ("chiaki breeze") or hope ("the (nobody) theater"). Having listened to i-fls since 2012, there's some personal investment here that makes Not Beautiful View all the more wrenching. Yet I don't think I'm alone. Get it here, or listen below.