#30 Snail's House Alien Pop II + Alien Pop III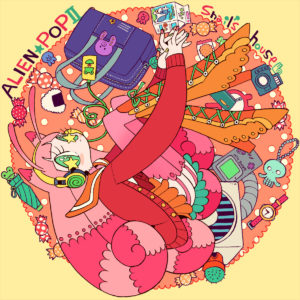 Near the start of 2019, Yasutaka Nakata shared the theme song he composed for an anime series about Virtual YouTubers, sporting vocals delivered by the digital influences themselves. It sounded a lot like Nakata trying to mimic the innocent bleeping of Snail's House. Consider it a weird twist, considering Snail's House's Alien Pop finds him channeling his love of Perfume and other feelings-flowing electro-pop into original songs. For this year at least, point for the molluscan. The latest entries in the Alien Pop series offered up dizzying dance songs borrowing not just from the Nakata playbook but also French touch. "Cosmo Funk" and "Planet Girl" surrounded unintelligible syllable chirps with synthesizer flurries adding a glow to every track. "Invader" reimagined "Night Flight" as something Yusaku Maezawa might fund, while "Fusion" saw Snail's House get more delirious than they've ever tried before, with the same songwriting intricacy coming through. Snail's House put out a lot over the course of this year, but these two saw the project achieve a bubbly new high. Get them here, or listen below.
#29 ΔKTR Push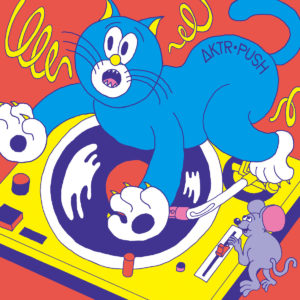 Lo-fi hip-hop beats to melt your brain too while still getting in plenty of relaxation. ΔKTR digs into the crates to find intriguing samples, and then breaks them down to a molecular level to find the juiciest passage, even if it ends up warping said music's original DNA. Push determines just how smooth a song can get before it turns into a vapor trail ("To Be Or Not To Bop") while also deducting what it takes to create something that sounds like snorting gold ("Eeeasy"). I don't even have to stretch out this metaphor, because many of Push's best moments are just down-the-hatch easy beats that work wonders without any MC going over them. Yet it's that thrill of hearing ΔKTR transform existing music into a series of what-the-fuck moments that get the imagination racing that makes him such a fun artists, and one reminding how beats don't have to just be background. Get it here, or listen below.
#28 CVN I.C.
Nagoya gets a bad rep for being the most boring place in Japan (give or take the nationalistic controversies that break out there on a yearly basis), but it has low-key been one of the best cities for music in the 2010s. Most recently, it's a hotbed for experimental creators, so much so that Foodman could host a short documentary about the city for Resident Advisor that celebrated its off-beat nooks and crannies. "I think Nagoya has had a major impact on my music," CVN's Nobuyuki Sakuma told me this past summer. Since getting out of Tokyo — and leaving the memory of early-2010s project Jesse Ruins in the Setagaya suburbs — Sakuma has changed up his sound as CVN, moving away from icy industrialism to a more sample-indebted approach placing him closer to the sonic quilting that fellow Nagoya residents Foodman and Woopheadcrlms get up to. I.C. offered the best version of this constantly mutating sound, resulting in high-definition constrictors like "You Argued For Justice" while also showcasing a newfound appreciation of space on "Zen Of Equilibrium," a number full of unsettling details but anchored by a shuffling beat. Boosted up further by plenty of great guest spots, I.C. solidified CVN's place in the modern Japanese experimental community, and showed that getting out of the city can be a pretty good move. Get it here, or listen above.
#27 Yunovation Hogaraka Ni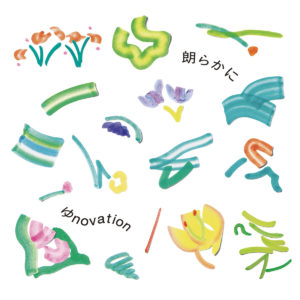 Osaka's Yunovation cashed in on all that potential that helped her crash the outer border of our list last year for Hogaraka Ni. In a lot of ways her debut full-length album just builds on that EP, down to including the charming melodica jaunt "Roki Store" and highlighted by a new version of "Aruteido Aru" which dials back the drum skitters in favor of piano melodies and synth squiggles. If that EP showed she was more than a whizz with an instrument primarily played by kindergartners, Hogaraka Ni shows just how intricate her creations can get, whether they are finding space for banjo plucks or brief horn blurts…or carving out a big chunk of space for her to deliver a signature melodica solo over. Get it here, or listen below.
#26 Sawa Angstrom DdTPt + Of Food + Level + Ice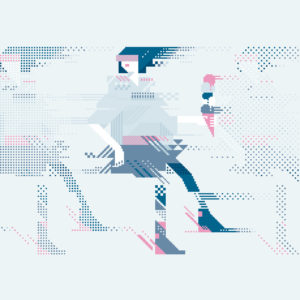 Clocking in at just under 90 minutes, electronic trio Sawa Angstrom's 2019 output felt more like a group spending 12 months working out a lot of ideas and seeing what would stick. Turns out, though, their constant experimentation is the selling point. These EPs document one of the stronger years of constant tinkering from a project that approaches sonic texture in the way a lot of creators tagged as IDM do, except by adding in a human element offering plenty of warmth and none of the snobbery "intelligent dance music" implies. Songs burst, ripple, belch, skip over themselves, and simply drift. On one extreme, they offered one of the most delicate reflections via "Tape Loop's" skeletal skittering, but only a few months later they broke out more forceful percussion to craft "Sweet Impact," an upbeat dance-pop number. There's no reason to force out a unified album in the streaming era if you don't feel like it, and Sawa Angstrom's quartet of EPs showed one path creators could travel without having to lose that desire to play around. Listen below.
#25 Yoshino Yoshikawa Ultrapop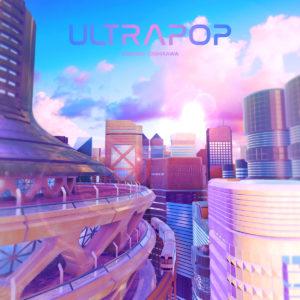 Few words get overused and deployed incorrectly by music writers like "pop." Take it from me, somebody who hears anything that gets jammed in my head and I'm ready to throw those three letters around without thinking twice. I'm not alone though, and seeing how much more now falls under the pop umbrella — "Old Town Road," pop! "Bad Guy," pop! "Where's My Juul??," probably I've been writing this list I don't know what the hell is happening. Yoshino Yoshikawa has always gone the extra step of describing his jaunty synth-pop as "ultrapop," a term separating itself from the more general word but leaving enough space for people to figure out just what it means. Now he's gone and created a primer to ultrapop with Ultrapop, an often bright and bubbly affair doubling as a career retrospective. He provides new versions of numbers that helped define what Maltine Records was in its early days ("Entertainer"), and also cuts from his releases on Zoom Lens which saw him opening up his world even further ("Yumetatsu Glider"). The new songs unfold in a similar Technicolor hop-scotch, playing around with vocal snippets on "Popcorn Stand's" pogo and delivering one of the more emotional lyrics Yoshikawa's penned on "Strange Dream." The best detail, though, comes in how Yoshikawa celebrates similar creators both old and new, calling on the likes of LLLL, Yunovation and more to join in this ultrapop party. No need to worry about a concrete definition of what that is when it's so fun to just get swept up in all the good cheer. Get it here, or listen below.
#24 For Tracy Hyde New Young City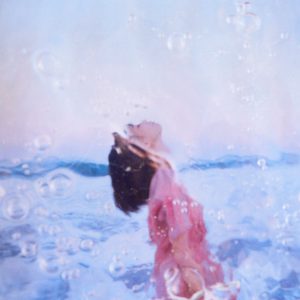 Two years ago, Tokyo's For Tracy Hyde released what I'd say is still their to-date masterpiece he(r)art, an indie-pop epic managing to capture the melancholy and joy of Japan's capital, music and even For Tracy Hyde itself within its movie-inspired frame. Like most sequels, New Young City knows what works and sticks primarily to it, down to keeping the same cinema-inspired pacing (complete with opening logo sequence) and vaporwave-indebted interlude. It might lack the same emotional oomph that the first time around had, but you've gotta trust people who know what they are doing, and For Tracy Hyde can turn all those sonic and emotional elements into indie-pop both capable of dashing along or leaving more space for the words to chip away at tender hearts. Sometimes you just want to return to the things you enjoyed, whether it's catching up with your favorite film characters or dipping back into teenage emotions. Listen below.
#23 Carpainter Declare Victory + Future Legacy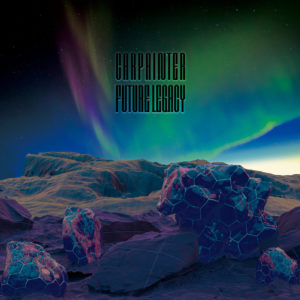 The past has always been present in the music producer Carpainter creates. U.K. garage and 2-step served as fundamental sounds early on, and as he's added his own futuristic touch to them he's helped establish his own character that has made him in demand for both Tokyo-area parties and top-level J-pop performers needing some youthful edge. This February's Declare Victory followed in the footsteps of previous Carpainter releases — the influences were clear, but it was about him adding his own flavor to each track (see the dramatic chug of the title track joined by some electronic gurgles, or the relaxing synth swoops surrounding "Enrichment Center"). Like in the past, Carpainter created numbers overflowing with great musical detail, and letting them absorb you through headphones or during a night out was half the fun. Get it here.
Which is what makes Future Legacy such an interesting development for Carpainter. Not to drag you down into the world of press releases, but this full-length release specifically referenced the Japanese rave sounds of Carpainter's youth (or at least what would have been playing if he was old enough to get into clubs back then). Bits of Ken Ishii and Takkyu Ishino have appeared in his space station garage before, yet here he was being more deliberate in acknowledging those who came before him, resulting in new sonic turns he hasn't tried before in an effort to honor the past while also building his…well, see the title. Both stand on their own fine, but when played back to back you find an artist in a very interesting moment, confident enough in what they've done up to now on Declare Victory but now measuring themselves up with the greats from their same area code on Future Legacy and pushing themselves a bit more. The one knock against it? I'm more interested in seeing what comes next now that the challenge has been accepted. Get it here, or listen below.
#22 Acidclank Apache Sound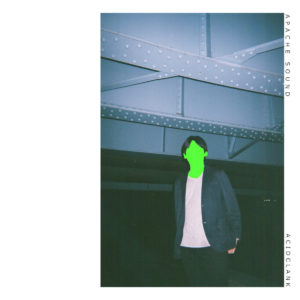 Sometimes you just need to clear all the noise away and seek out new ideas in the silence now available to you. Yota Mori's Acidclank project used to be a full-on shoegaze experience, taking cues from the gloomiest corners of England to construct reverent indie-pop smudged in feedback. No shortage of groups scattered across the archipelagio try to recreate Loveless, but Acidclank had a much better grasp of what made shoegaze hit than most.
Apache Sound finds Mori flipping everything around, and part of its appeal lies in how he's scrubbed off all the fuzz in order to get more sparse. There's no waves of feedback on the title track, just a machine-generated beat, some synthesizer notes and Mori's own voice run through filters to give it a constantly buzzing feel. "Dubs" features a slight static on the edges, but nothing approaching the guitar-created cover of the past, as now only various vocal affects coat his voice. "Ghost Box" features rap samples and a generally funky melody, for goodness sakes! Acidclank's stretching out here, using a new set of tools to explore the same emotional terrain, and nailing it ("Funeral" and especially "Downtime Acid Jam" offer his most imaginative work to date). All that room allows for some interesting sonic and personal explorations, and it makes the finale of "Addict of Daydreaming" — the one moment where he lets the guitar fuzz wash over him — cathartic. Get it here, or listen below.
#21 Kenji Ai No Hibiki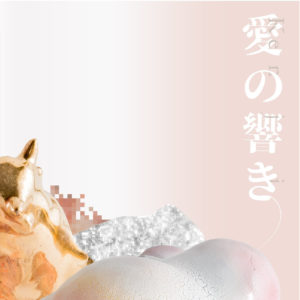 At somepoint in the near future, people are going to start looking at the experimental music communities that emerged across Japan in the 2010s and be in awe of what bubbled up. A lot of the names central to this have been celebrated around these corners before — Foodman, Woopheadclrms, CVN (just a few numbers up!), Koeosaeme, emamouse, Toiret Status — but the most unified front creating sample-centric splurts of chaos was Wasabi Tapes, which went and (I think) deleted the majority of their releases from the internet. This is going to make telling the story much harder — and deprive a generation of music nerds the chance to get sucked up into Pachinko Machine Music — but traces remain out there. Like labelhead Kenji's Ai No Hibiki, released via Absurd Trax and condesncing the Wasabi Tapes experience down in a way only bested by DJWWWW (which, also, Kenji). Music box melodies careen into snatches of folk songs while birds hoot off and slime boils. Radio station bumpers play off even though the world around them crumbles apart, leading way to a warped rap beat that refuses to go out. ASMR whispers fail to deliver the promised effect because someone is playing Modern Warfare really loudly in the other room. Yet from this splattering of sounds Kenji finds surpirsing melodies to build around, and even if they only last a second before combusting, he's located some surprising beauty that can even make room for guests like Metoronori to step into for a few seconds. When Ai No Hibiki isn't chaos, it's stumbling across serene beauty, like on the hiccuping piano number "Kitano Blue." It plays at the same pace as social media, always introducing something new and unafraid to Tweeticide ideas, but rather than bemoan this speed, Kenji finds something worth saving within. Get it here, or listen below.