#40 Universe Nekoko Kimi No Youni Ikiretara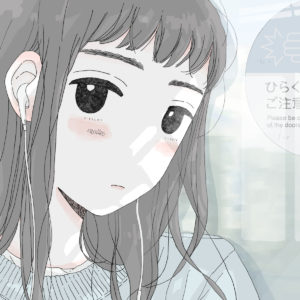 Bump into someone walking down the main shopping arcade in Koenji and you have pretty good odds that they play in either a shoegaze band. Few styles have persevered in Japan like this corner of rock, and as a result standing out from the field can be a deeply difficult task when so many MBV acolytes abound. Universe Nekoko offer plenty of feedback over the course of Kimi No Youni Ikiretara, but it's the lessons they gather from another longstanding style — indie-pop — that elevates them a step up. Despite all the noise, shoegaze taps into the same teenage melancholy the best twee pop grazes. They leave space for those feelings to come across on the title track and highlight "Like A Raspberry," holding off on any sonic fireworks in favor of drifting. It makes the moments they do rip it open on "(I'm) Waiting For The Sun" all the more effective. Get it here, or listen below.
#39 Various Artists Digital High Life Compilation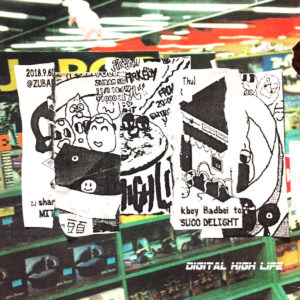 The big asterisk I'd stick next to my 2019 in music — I didn't get out to nearly as many live shows or events as I should have or really wanted to. This pang of guilt popped up frequently during end-of-year parties, where new people meeting me excitedly asked "how many shows do you get out to in an average week?" Now, I have plenty of good reasons not to — you try staying out past midnight when an infant prone to erupting into tears when someone opens a door too loudly waits at home! — but it does feel like a big change. That's why a compilation like this one has stuck around so much in my head, as it gathers regulars converging at a Shibuya party and tries to offer a kind of recreation of the vibe for us bound to the house. A lot of fantastic comps from 2019 could fill this need, but between Boogie Idol crafting crystaline jingles between tracks, future funk mutations courtesy of kissmenerdygirl and re-imaginings of the familiar into new party starters via DJ FFFTP, this one hits also scratches an ever-present itch for folks playing around with the past and ideas of nostalgia. Get it here, or listen below.
#38 Yuri Nijuuichi Seiki No Rinri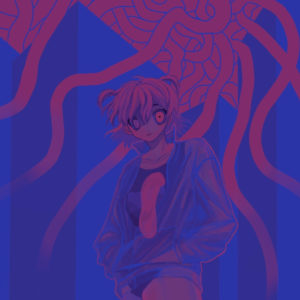 Beats have, in recent memory at least, become pure background noise, a slightly crackled soundtrack for wrapping up our chemistry homework and/or feeling vaguely wistful for childhood. Whatever helps you ace your class or helps you through the doldrums of adulthood, that's great. Thank god for artists like Yuri, though, who show how the sound can be unnerving and unpredictable rather than too chill. They let listeners float off, but little details like a sudden shift in percussion or synthesizers mimicking toy laser guns snap 'em out of it to remind that everything is always changing. They also call on guest rappers — including Tamana Ramen, with a handful of EPs from this year also worth checking out — stepping into the void to show how they can exist in this space without sounding anything like you'd expect. Get it here, or listen below.
#37 emamouse Eye Cavity
Tokyo's emamouse has constructed an entire wonky world all their own, and finding an entry point in can be daunting. That's not just because you have to contend with a Bandcamp page littered with releases and a bunch of other albums and EPs funneled out to the world via other labels. Rather, it's because emamouse's bedroom-based mix of synthesizer, guitar and sing-talk always feels part of a bigger overall place, but one where every corner has its own character and specific landmarks. This also makes them the only artist on the list that put out multiple releases in 2019 I don't feel comfortable grouping all together. Go experience the spacious reflection of floating wide Luffa and their surprisingly bleak collaboration with Nicolò Desolation, and whatever else they put out that I'm blanking on because I don't have an emamouse specific spreadsheet. I'll go with this Spring's Eye Cavity as their finest 2019 moment, showing off emamouse's knack for turning off-kilter melodies into jaunty sonic trips over crayon roads, while also coming off as their most personal work to date (as they told me, this one was inspired by the feeling of being hot to the point of passing away after a bicycle ride, prompting some deeper reflection). Get it here, or listen above.
#36 Paellas Sequential Souls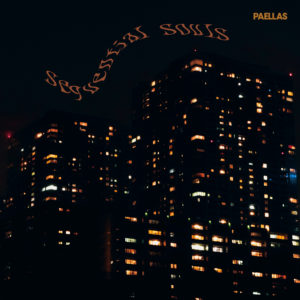 Someday, I'll look back at my life and remember that there was a multi-month period where Paellas commercials played on the jumbotrons around Shibuya Scramble. Few arcs have been more unexpected — at least to me — than watching the Osaka band play their first Tokyo show in the ever-cramped Shibuya Home livehouse to, just under a decade later, calling it quits following a brief fling with a major label and some surprisingly high level exposure. They came up at a time when smooth, Kanagawa-based "new city pop" was filling the air with easy-breezy meditations on hanging out and drinking coffee. I like taking it easy as much as the next person, but Paellas took the tight melodies of that style and shoved them into the shadows, adding an unease rarely sneaking into the type of rock that broadcast into one of the busiest street crossings in the world. Sequential Souls provided one more heavy walk back home after last train. They played around with sparseness on songs such as "Mellow Yellow" and "In Your Eyes," letting the feelings walk into the streetlight-glow of the center, revealing new dimension to the group. Plus they could still get a rock number tipsy, evidenced on "Horizon's" stagger or the quicker dash of "Searchlight," the closest they've come in quite some time to returning to the zip of their Ano(t)raks days. This one doesn't feel like an ending, but Sequential Souls will have to play that role. Which sort of seems fitting, actually, for everything to not be wrapped up tidily. Listen below.
#35 Puni Puni Denki Mirai Addiction + Wonder Underground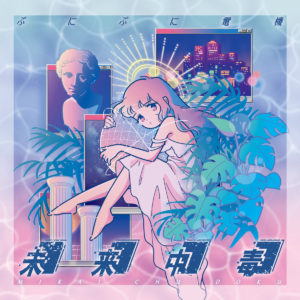 Trying to define what the internet sounds like is an impossible task, but credit to Puni Puni Denki for trying. Mirai Addiction and Wonder Underground highlighted her versatility, and found her creating and collaborating to create albums that hit on major sonic elements that we online-wrecked types know so well. It's more clear on the prior, which goes from maximalist dance music trying to suffocate you to a future funk-indebted skip on "Imaginary Boi" to plastic funk provided by Pasocom Music Club. The ones she made all her own — which make up all of the latter — recalled a time pre-Tumblr, when acoustic guitars and bossa nova covers of things made up a large chunk of YouTube. For all the click-ready sounds though, Puni Puni Denki found ways to subvert ("Empty Castle" being closer to tyrant than benevolent leader) and celebrate ("Life Is Super Dope"…it is!). As the year went on, she revealed even more new sides, but something about the variety of these two made for her best 2019 output, and a surprisingly poignant way to reflect on web sounds as the 2010s came to an end. Get them here or listen below.
#34 Dos Monos Dos City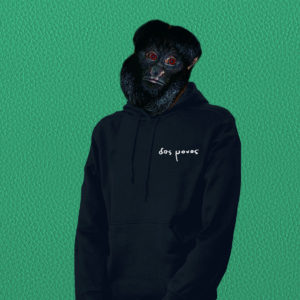 One of the points Dos Monos stressed to me when I talked to them this past summer in the wake of Dos City's success in certain online music circles was that they weren't part of Tokyo's hip-hop community. That reason probably explains why this fever dream of Frank Zappa samples, horn squanks and shout-outs to Hibari Misora and Hideo Nomo managed to charm YouTube critics, Daikanyama hipsters and rap heads in equal measure (and me). That's a dangerous statement, but Dos Monos aren't appropriating but rather finding a new perspective on an American style that is often just imitated by your more boring Japanese MCs. Dos City tightropes between headier lines about society and experimental beats, but never gets lost up its own asshole. These three are still tag-teaming in and out over these things, and having a blast just going for it over these backdrops. Get it here, or listen below.
33. De De Mouse Nulife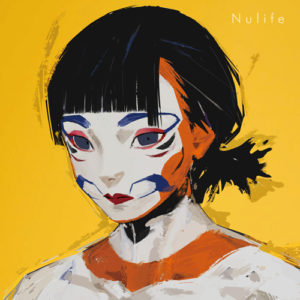 Let's step outside from the blurb-churn for some inner monologue: one of the biggest challenges for me trying to do this list is how much great music came out (or literally just emerged suddenly) in December. Even if we chill and admit that dude, it's just a list you are making instead of figuring out your taxes, relax, trying to make sense of something that just saw release is tricky. This becomes much more of a problem in the top ten, but I bring it up here because I can easily picture Nulife rocketing up to that tier in a couple years. It might even be De De Mouse's album to date, though that's some real recency bias coming through. This is the electronic artist's eight album, and after sticking with electro-pop fizz over his last couple of releases, De De Mouse placed a little more attention to the percussion underneath all those chopped-up vocal samples to create dance-pop for final-stage Crossfit, with a few breathers riffing on French touch and Friendly-Fires-ish tropical pop. That he still manages to wring all kinds of feelings out of these tracks — joy, sadness, "Regret," melancholy, optimism — despite how swiftly they unfold is even more impressive. I think it's his biggest departure since A Journey To Freedom and one of his finest, but maybe I'm rushing into it. This seems fair for now. Listen below.
#32 Kiki Vivi Lily Vivid + Sukisha x Kiki Vivi Lily Over The Rainbow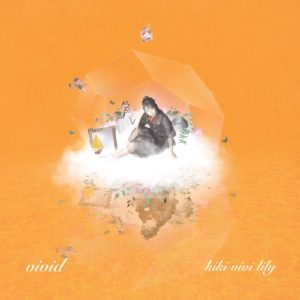 Blame it on the arrival of the Reiwa Era, but once all the nostalgia for Heisei parted away it felt like everyone started trying to figure out who would appear as the face of a new generation, like Yoshihide Suga was going to hold up a banner saying "Aimyon" on it. It's going to probably take until the next epoch arrives to really make sense of what hasn't even happened yet, but out the gate the shared quality of so much new pop is something pretty common all over the globe; happy to dabble in all kinds of styles, focused on the personal but with clever twists, detailing a city existence. Kiki Vivi Lily isn't quite on the next-big-thing discourse like other young Japanese artists, but her two albums from 2019 make a strong case she should be factored in. Vivid unfolds with a lets-give-it-a-try attitude, but uttered by someone who seems really good at pretty much everything they give a shot. She pulls off sunny-day rock that imagines a cheerier Mitsume on "Brand New," melts into herself on the half-rapped lazy river of "Waste No Time" and serves up tender indie-pop on "Copenhagen." That's not even touching on when she cedes the spotlight to let producer Sweet William show off his beat chops on a rework of her "AM 0:52." To close out the year, she teamed up with producer Sukisha to stretch her sound out even more. Here, she out neo-city-popped everyone with "Rainbow Town's" funk skitter, and went full glistening on pop gem "Pink Jewelry Dream," her strongest number to date and what she should put right on top of her application for Music Station. Forget Reiwa, that one just sounds timeless. Listen below.
#31 DJ Fulltono, CRZKNY and Skip Club Orchestra Draping Series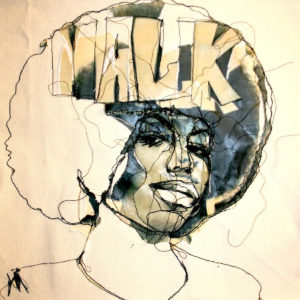 There was no shortage of great Japanese juke to highlight in 2019, but it's hard to beat this year-spanning project that brought together three of the foundational creators in this dance music community to riff off one another. Each of the producers taking part in every installment of Draping has their own defined approach to juke — CRZKNY aims for the pulverizing bordering on gabber, DJ Fulltono strips it down to the basics, and Skip Club Orchestra goes for a more vocal-heavy formula — and each of them dabble in this at times. Yet they also use Draping as a chance to explore different ideas…or even give a go with the other participants style. Get them here, or listen to the first installment below.