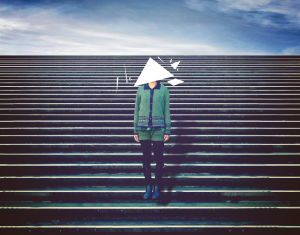 This month's Music Alliance Pact is here! For August, we put the spotlight on the fast-rising Qrion, specifically one of her songs from this year's great Sink EP. Listen to it…and a lot more…below.
Click the play button icon to listen to individual songs, right-click on the song title to download an mp3, or grab a zip file of the full 22-track compilation through Dropbox here.
JAPAN: Make Believe Melodies
Qrion – Sink
Sapporo producer Qrion has a knack for manipulating and fitting vocal samples into her songs. Her latest EP features tracks built around ample space and various warped vocals which, depending on how she chooses to deploy them, can sound unnerving or weirdly inviting. Sink touches on both sides, opening with growly voices before pivoting into a surprisingly sweet section.
ARGENTINA: Zonaindie
Como Diamantes Telepáticos – Soñar Soñar
The name of the band comes from an Allen Ginsberg quote about the writings of his friend Jack Kerouac ("Each book by Kerouac is unique, a telepathic diamond"). This song by Como Diamantes Telepáticos is the first single from Dorado, their second studio album, in which they explore a more experimental psychedelic pop sound and mysterious lyrics. The album is available in physical format and as a free download from Bandcamp.
AUSTRALIA: Who The Bloody Hell Are They?
Blonde Tongues – Seilu
Seilu, the new single from Brisbane's Blonde Tongues, is a piece of dream-pop with serious emotional pull drawn from slow-build instrumentals and spacey flares of lead guitar. A track about contradictions, thought patterns and lines of friendship, Seilu is coy and seductive rather than brash. There's no doubt Blonde Tongues still have plenty more depths to reveal in their sound.
BRAZIL: Meio Desligado
Banda do Mar – Hey Nana
Banda do Mar is a project by Marcelo Camelo (former singer of Los Hermanos, one of the biggest Brazilian bands from the last decade), Mallu Magalhães (Brazil's biggest hype from the MySpace era) and Fred Pinto (Portuguese musician, member of Buraka Som Sistema and Orelha Negra). Hey Nana is their first single, bringing summer early with a catchy melody and some beachy vibes.
CANADA: Ride The Tempo
Slight Birching – Currency
Sean Travis Ramsay makes neo-folk tunes under the name Slight Birching. His latest single Currency reveals a slight eerieness created by a haunting pedal steel and unique guitar twangs as Ramsay ponders a larger meaning in life.
CHILE: Super 45
El Gato, La Virgen y El Diablo – Pilletu
While the Chilean musical scene becomes saturated by predictable naive pop projects, designers Alfredo "Fello" Duarte and Vicente Espinoza recapture the taste for the experimental with a project that mixes visual arts, design and, of course, music. In their debut EP, El Gato, La Virgen y El Diablo (GVD) explore popular folk music (having Argentinian zamba and the Chilean nueva canción movement as their main influences), redefining it through synthesizers and samples. Thanks to this stylistic ambiguity, Beta EP is one of the most interesting releases this year.
DENMARK: All Scandinavian
The DeSoto Caucus – Nail In The Wall
When they're not in Howe Gelb's Giant Sand or backing the likes of Kurt Wagner, Isobel Campbell and Mark Lanegan, these five guys from Aarhus create music in a dusty American tradition as The DeSoto Caucus. They are three great albums in, and here's Nail In The Wall from their eponymous latest as a MAP exclusive download.
DOMINICAN REPUBLIC: La Casetera
Perla Marola ft. Anthony Louis-Jeune – Bon Vibe
Daughter of famed Dominican merengue performer Sergio Vargas, Perla Marola is taking a slightly different musical path. Experimenting with reggae and rap, her collaboration with Haitian singer Anthony "Aton" Louis-Jeune brings a necessary message of unity for both territories. Bon Vibe forms a small part of something bigger, a documentary that will reflect the various lifestyles of the people in these neighboring countries sharing the same island.
ECUADOR: Plan Arteria
Alma Rasta – Sonido Del Ghetto
When we talk about Alma Rasta, we talk about the essence of the reggae movement in Ecuador. With a career spanning more than 20 years, Alma Rasta released second album Sonidos Del Guetto in late 2013. This song, which shares its name with the album, features Chilean musician Cristian Aliaga aka Caliajah.
FRANCE: Your Own Radio
Petit Biscuit – Brumes
Petit Biscuit is a young boy (just 14 years old) who is trying to convey emotions with his music. Using guitar and synths, he delivers a cool instrumental track in Brumes. Petit Biscuit is produced by the French label Moose Records, who work with Andrea, Tyord and Julia Losfelt.
INDONESIA: Deathrockstar
Merah Bercerita – Bunga Dan Tembok
Bunga Dan Tembok ("Flowers And Walls") is a song about a massive building that has made the beautiful flowers disappear. Merah sings the poems of his father, Wiji Thukul, a famous poet who went missing during the New Order oppression. Bunga Dan Tembok is one of his most well-known works and Cholil (Efek Rumah Kaca) joins him on vocals. All of Merah Bercerita's songs are beautifully sung.
IRELAND: Hendicott Writing
Revin Goff – Salthill
This tripped-out, mellow take on hip-hop takes its stormy, percussion-heavy angles from the crashing of the Atlantic winter against the Salthill promenade in Ireland's gorgeous western outpost of Galway. Penned by inventive 23-year-old newcomer Revin Goff, it's a textured and nuanced release that dripfeeds fuzzy personal narratives, complex and jittery enough to require further listens and comfortably compelling enough to demand them.
MALTA: Stagedive Malta
Plato's Dream Machine – Fik
The latest project of Plato's Dream Machine ventures through relatively new terrain in the Maltese scene, culminating in their new full-length album Għera, released in April. The band, led by singer-songwriter Robert Farrugia Flores, has successfully reinvented Maltese music giving it a fresh, contemporary sound. Their semi-organic electronica mashed on top of drone riffs and beats is fused with poetical lyrics sung in their native language.
MEXICO: Red Bull Panamérika
LAO – Equivalent (Merengueando Bootleg)
Mexico City's art label NAAFI has always digged in the margins, seeking cultural clashes that emerge from the country's unequal social classes. As one of the heads of NAAFI, Lauro Robles aka LAO – Mexico's representative in this year's Red Bull Music Academy in Tokyo – summarizes on Equivalent some of his crew's aesthetic ideals: dark and urban first-world dubstep landscapes, juxtaposed with the distant cries of a decadent MC on board a tropical sound system.
PERU: SoTB
Planeador – Escarcha De Ipanema
Planeador is a rock band, based in Lima, who were influenced by grunge on their debut album. They are back with their second record, Ausente – available for free download via Bandcamp – and this time their sound is defined by space-rock, shoegaze and lo-fi. Escarcha De Ipanema is a celestial journey through their hypnotic voices.
PORTUGAL: Posso Ouvir Um Disco?
Los Waves – Darling
José Tornada and Jorge Da Fonseca started as League in 2010 but in the summer of 2013 changed their name to Los Waves. This change can be explained by their love of travelling and nature, especially the sea and surf. Some have mentioned MGMT to categorize their sound. They have had their tracks featured in MTV series Awkward as well as Made In Jersey and Criminal Minds on CBS. Darling is their newest single which will be on their album, This Is Los Waves So What?, due out in September. Their "no budget" video for Darling can be watched here.
PUERTO RICO: Puerto Rico Indie
Former Astronauts – Tonto Corazón
Former Astronauts is a pop-rock trio hailing from Aguadilla, a town that features many of Puerto Rico's most beautiful beaches along its west coast. That sunny, cheerful disposition is more than evident in Tonto Corazón, from the band's just-released debut EP, a song that combines the rhythmic dynamism of Vampire Weekend with Tokyo Police Club's sharp pop hooks. Even when the lyrics reference soured relations and broken hearts, its bouncy, carefree nature makes it a solid, catchy single, and the perfect song to say goodbye to this crazy summer season.
ROMANIA: Babylon Noise
Exit Oz – Zurobara Spre Orient
Exit Oz's music is difficult to pin down in one genre, with influences ranging from soothing ambient to noisy electronics and anguished free jazz. The project first came out of the improvisation sessions made in 2011 by Alexandru Iovan (tenor saxophone and vocals) and Ovidiu Zimcea (samples). In 2013, other musicians joined the project as collaborators and they had their first live shows as a trio, together with Lucian Naste on guitar and drum machine. In 2014, after Lucian left the project, the trio reformed with Dorothea Iordănescu playing synthesizer.
SCOTLAND: The Pop Cop
Skinny Dipper – Hospital Bed
Idyllic pop is the name of the game for Glasgow-based newcomers Skinny Dipper and their medley of members (eight girls and one guy), all of whom have noteworthy pedigrees in other bands in the Scottish music scene. We have the honour of bringing you an exclusive introduction to their first recorded material in the shape of the genteel Hospital Bed, taken from their debut EP Masks, which will be released through Olive Grove Records on September 8. It's an immersive listen, showcasing Skinny Dipper's flawless harmonies and soothing string work.
SOUTH KOREA: Indieful ROK
Jun Bum Sun & The Yangbans – The Seven Year Itch
For many centuries public servants – yangbans – were the aristocrats of what is now known as Korea. Jun Bum Sun & The Yangbans aspire to the same balance between the academic and artistic, noticeable particularly in the band's lyrics. First album Love Songs is a narrative of a relationship and was released this month. The Seven Year Itch is the album's final track and features Jun Bum Sun's strangely attractive vocals over a smooth, alluring pop melody.
SPAIN: Musikorner
Skygaze – So Above
Skygaze is the moniker of Jaime Tellado, from Gijón but currently living in Madrid. His music explores the vast and dreamy fields of IDM, similar to Four Tet or Rustie. Skygaze is ready to take off and his next stop is the world.
UNITED STATES: We Listen For You
Alvvays – Archie, Marry Me
Alvvays feels perched between the sincerity of Belle & Sebastian and the tongue-in-cheek of Kimya Dawson. Musically and lyrically astute, Alvvays sounds like what was great about indie-pop bands of the past and smart enough to make you hear an emotion anew.