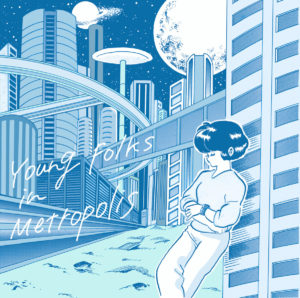 The city sits at the center of Japanese life in 2016, as the number of people moving to major metropolitan centers keeps growing while the countryside — and even mid-size cities — see populations dwindle, once bustling shopping arcades reduced to shuttered-up artifacts. Music, accordingly, has shifted towards a more urban crowd. This has been a banner year for "new City Pop," a trend coined primarily by companies and magazines playing off City Pop, a genre that was popular back in the '80s and with a similar megaopolis bend. The actual artists are rarely as indebted to, say, Toshiki Kadomatsu, as they are Random Access Memories, but spiritually do share a lot in common…primarily capturing the mindset of young people living in a city such as Tokyo or Osaka. Suchmos, Lucky Tapes, Cero and more make tight, laid back songs all about taking it easy and savoring youth.
Those acts have monopolized attention…but how has the indie scene responded? I mean, they are based in the same cities, creating their own sounds reflecting the circumstances they find themselves in. Young Folks In Metropolis offers a wonderful new perspective on city sounds, one veering well beyond simply smooth. This comp was organized by Poor Vacation, and it works in the same fashion as Moscow Club's Ç86 or any of Ano(t)raks' comp collections. It highlights a wide variety of independent artists, featuring a wide variety of sounds and ideas. If a large chunk of larger label-backed bands have sounds a bit too glossy and smooth…and maybe just pure rock…for you, Young Folks In Metropolis offers an alternative.
Which isn't to say it avoids the vaguely tropical. City Pop has had a resurgence across the board, and spots here draw from it, including album opener "OG Love" by '80s revivalists The Oto Factory, who dip their voices in Vocoder and load up on funk synthesizers. Part of the thrill here is how the funk sounds a group like Suchmos has taken gets warped — Evening Cinema's "Moonbeams" is a shimmering rock number, but made slightly unnerving via digital vocal processing, which leaves the singer sounding like he's vanishing. Crucially, it doesn't rest on this style. Pictured Resort would seem like a good candidate to contribute a beach-dreaming bit of indie-pop…but there "Days In Maui" is sun-grazed dance, the band opting out of traditional rock for something that slots up nicely with Half Mile Beach Group's "Monica" and Nite Body's "Mercury Falls."
It's as loaded a compilation to come out of Japan this year, and one that expands the boundaries of what younger artists are doing in the country today. It makes room for the dizzying dance of Soleil Soleil, the squiggly bounce of Pasocom Music Club and the haunting R&B of Far Farm. Even Beef Fantasy stops by with an acoustic number about the internet. Whatever way it bends, Young Folks In Metropolis offers another view of city-born music, and an excellent one at that.
Get it here, or listen below.