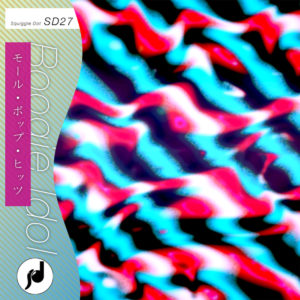 American imprint Squiggle Dot just released three albums from a trio (or, maybe 2.5, as one is a split with another artist outside the country) of Japanese artists, each hitting on different pleasure centers. Boogie Idol's Mall Pop Hits is a great place to lead off, the Tokyo producer's crystalline synthesizers and BGM-ready beats intertwining to create something that's far more than simple '80s worship. Yeah, the first song is titled "Ordering Information" and opens with the sound of a TV coming to life, but any tongue-in-cheekness slips away as he assembles a lively number going beyond QVC prank. I've said it before, but it is only made more clear here — Boogie Idol appreciates the sounds of a bygone era, but arranges them into shuffling numbers that feel alive (and, on a cut such as "Disappearance," something you could happily soak yourself in). Get it here, or listen below.
Young Yamaguchi producer Toiret Status, meanwhile, teams up with OAKMILK for a set featuring each of them putting forth a song — and the other serving up a remix. OAKMILK's "Sumi" deals in atmosphere — of unease, of things slowly breaking apart — but Toiret Status uses those disconnected sounds to create a slippery and chaotic bit of festival fun. On his own "#32," meanwhile, well it is a rush of HD sounds, following into place just right to create a cartoon-worthy melody. Get it here, or listen below.
Last, from Nagoya, is a name we aren't familiar with — woopheadclrms, whose Nihon No Kamakura Haha manages to be the most experimental of the trio. It leans closer to Toiret Status' chaotic approach than to Boogie Idol's twinkly retrofitting, with synths smashing against stiff drum machine beats and a smattering of samples. Texture is critical, and the songs feel more like bursts to absorb than fleshed out melodies (probably the key difference between woopheadclrms and Toiret Status as of now). Yet their choice in sounds is pretty captivating, and this album lasts just the right length. Get it here, or listen below.