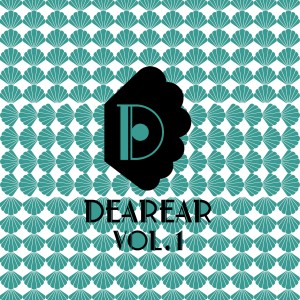 Dear Ear Records is a new label from Kyoto, one that has just appeared this past month. Which makes sense because – at the moment it feels like a fledgling imprint. Beyond being from Kyoto, they haven't had time to shape out an identity. They have put together a lovely compilation, though, and even if the eclectic nature of this collection is further making it unclear what they will become, they have gathered some lovely music together. Dear Ear Records Vol. 1 features primarily Japanese artists, yet makes room for a few Los Angeles musicians as well. The duo of Jesse Patterson and Mia Doi Todd create a submerged bit of dream-ish pop on "Aqua Mundi," while Carlos Niño delivers a more rumbling experience – one making good use of recorded sounds – on "4 Directions Collage."
Seeing as what this blog's about, let's focus on the Japanese artists, though. There Is A Fox first caught our attention after working with Spazzkid on a song earlier this year (the LA-Kyoto connection is strong, huh?), and on "Sun" he's getting even more bare bones – this is a simple…but endearing…song that takes two minutes to get to his sweet, observant lyrics in the center. The Scratchy Bear project, meanwhile, takes cues from sample-lovers The Books (listen to that Speak-n-Spell chatter and a couple other samples) but builds it towards a twinkling little number anchored by various toy instruments. Since the bulk of the first half of this collection leans towards folksy material (or at least lush stuff), the final two songs are a bit of a twist – they are far busier electronic numbers from Liquid Sunshine and Kosmo Kat (the latter now calling Japan home). Kosmo Kat's contribution isn't as manic as he's know to get – it's a lovely electro submerger – but still a shift. Variety is ultimately makes this collection a good listen…maybe that is the way to go.
Get it here, or listen below.