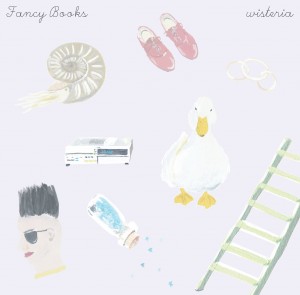 Make Believe Melodiesは今月のMusic Alliance Pactに埼玉のデュオ、Fancy Booksの"Sister Carry Stars"を紹介させて頂いています。世界中から紹介されている他のトラックも勿論聴いて頂けます。視聴は以下から。
Click the play button icon to listen to individual songs, right-click on the song title to download an mp3, or grab a zip file of the whole 38-track compilation through Ge.tt here.
JAPAN: Make Believe Melodies
Fancy Books – Sister Carry Stars
Saitama duo Fancy Books takes a lot of cues from groups currently generating buzz in Tokyo, especially blog-approved outfits Jesse Ruins and Sapphire Slows, whose sounds swirl dance music with unsettling ambient touches. Sister Carry Stars, though, leans closer to pop, with a jaunty melody and sweet vocals that sound inviting. Still, Fancy Books take an otherwise summer-friendly number and turn it woozy with their synths.
ARGENTINA: Zonaindie
Sobrenadar – 1859
Born in Chaco, Paula García relocated to Buenos Aires for the first time in 2006 to study music production. Since then, coming and going between Chaco and the capital, she adopted the Sobrenadar identity, developing it through two LPs and three EPs, self-released digitally. 1859 is her latest album, and the highest point of that constant evolution. Released through Bandcamp during the first half of this year, it has already obtained several reviews that name her as one of the most promising new local electronica artists. The song 1859 is a bonus track from a special reissue by Mamushka Dogs Records.
AUSTRALIA: Who The Bloody Hell Are They?
Bad Dreems – Too Old
Any of our overseas friends who are fans of The Twerps, do tune in. Sydney via Adelaide four-piece Bad Dreems are one of the best Australian bands at the moment (in our humble opinion). Too Old is about a fizzling relationship, with a nod to the humdrum routine somewhere in between. Its delivery is anything but boring, though. Loose treble riffs, vocalist Ben Marwe's casual drone and arguably the catchiest hook being passed around all make this track so great. If only everyone else took a cue from these guys and stopped trying so hard to sound good. Downer-pop at its best.
AUSTRIA: Walzerkönig
Dust Covered Carpet – Fragile Soul / Heavy Heart
"A rooftop above concrete or a cliff above the shore or an accident on the street." The first lines of Fragile Soul / Heavy Heart set the tone for the rest of this strangely calm, reduced and peaceful song that is, after all, about suicide. It is no surprise, then, that Dust Covered Carpet are based in a city with a well-known affinity for all things morbid: Vienna.
BRAZIL: Meio Desligado
Dibigode – Mariposa (A Lagartixa E O Urubu)
Dibigode is a creative band formed by five young multi-instrumentists who make post-rock music full of melodic lines and dynamic sounds. This version of Mariposa (A Lagartixa E O Urubu) is part of the new remastered version of their debut album, Naturais E Idênticos Ao Natural De Pimentas Da Jamaica E Preta, available for free download at the band's website.
CANADA: Quick Before It Melts
Evening Hymns – Arrows
On his second album as Evening Hymns, Jonas Bonnetta has made public his very private and personal response to his father's passing. There are moments of sentimentality and sweetness, and there are times when raw nerves are exposed, stinging with pain and heartache. Arrows is a touching, haunting song about the ghosts that linger long after a loved one has passed away.
CHILE: Super 45
Ases Falsos – La Sinceridad Del Cosmos
Ases Falsos present their debut album Juventud Americana (Arca Discos), a collection of songs that refer to the Latin American ideology yet manage to sound contemporary at the same time. The classy use of synthesizers, the meticulous vocal harmonies and the melodic wrapping are, along with irony-filled lyrics but with a strong political and social meaning, the highlights of this work. Our pick is La Sinceridad Del Cosmos ("The sincerity of the cosmos"), a song that questions police brutality… from an animal's point of view.
CHINA: Wooozy
Baby Formula – Warm Song
Baby Formula, currently the only shoegaze band in Beijing who plays dream pop live, are formed by an artist who dedicates himself to being a loser, a senior who doesn't know where to get a master's degree and a writer who hasn't sold any piece of work yet. Their music is influenced by a wide range of bands from Slowdive to The Radio Dept.
COLOMBIA: El Parlante Amarillo
Bomba Estéreo – Pa' Respirar
After four years of waiting, electro-cumbia group Bomba Estéreo returns with a more reflective album in which they explore their essence, but without forgetting their Caribbean power. Pa' Respirar means "to breathe", a theme that reflects the band's new vibe, where you can feel the world they inhabit.
DENMARK: All Scandinavian
Indianna Dawn – I Always Miss You
There's been a new wave of Americana and country music sweeping Denmark in the past few years (I say 'new' – I don't really think there ever was one before) and one representative of this is the quintet Indianna Dawn, centered around singer and songwriter Dianna Dønns. MAP exclusive download I Always Miss You is from their great debut album Somebody's Dead.
DOMINICAN REPUBLIC: La Casetera
Duluc – La Mano Partía
From the depths of rural laments, La Casetera's first MAP submission is all about Dominican folklore. José Duluc is part of our musical history, playing alongside iconic rock star Luis "Terror" Días for many years. His nostalgic approach to peasant work on his latest song, La Mano Partía, makes us contemplate the aspirations of the less fortunate and their longing to be generously rewarded someday.
ENGLAND: The Guardian Music Blog
Woodpecker Wooliams – Crow
Woodpecker Wooliams aka Brighton girl Gemma Williams is a 27-year-old singer-songwriter and multi-instrumentalist, and for once that term is true: the former midwife plays harp, kora, omnichord, keyboard, harmonium, electric organ, accordion, penny whistle, clarinet, bells, glockenspiel, electric shruti box, recorder and drums. She's also more Björk than Beyoncé, a kookstress with a high chirrup of a voice and a back-story involving a bird obsession and a bee fetish. Don't expect wall-to-wall cute, though. On Crow, one of several avian-related titles on her The Bird School Of Being Human album, she sings about building "a great funeral pyre" as the music becomes increasingly clanging and industrial. Prepare to be haunted long after it ends.
FINLAND: Glue
Skip Zone – Leaving Planet Boredom
Skip Zone is a six-piece folk-rock band from Helsinki that performs mid-tempo cosmic Americana songs with some outstanding vocal harmonies and catchy pop melodies. A little bit early Wilco here and a little bit Ryan Adams there create well-crafted songs. Skip Zone's debut EP can be heard on SoundCloud in its entirety.
FRANCE: Yet You're Fired
Aud – Violets
Aud is a folk-pop duet hailing from Nancy, heavily influenced by Patrick Watson, Sufjan Stevens, Beirut and other indie acts. Their first EP, Origami, released in 2010, brought them much success and Violets is taken from their second one, The Death Of The Stag God, released on September 14. Not only are they brilliant lyricists, but also exceptional multi-instrumentists who use guitars, drums, pianos, glockenspiel and harmonica to create a diverse spectrum of sounds and feelings.
GERMANY: Blogpartei
Stabil Elite – Hydravion
Let's conclude our series on new Kraut with this fine trio from Duesseldorf, whose debut Douze Pouze had quite an impact on German music scene. They combine the charm of monotony and repetitive patterns with distinctive lyrics reminiscent of Neue Deutsche Welle. But Stabil Elite is not just one of those retro bands – it's mature, handmade music with a great range of originality.
ICELAND: Rjóminn
Monotown – Can Deny
Monotown just finished their debut album in a collaboration with four-time Grammy-winning mixing engineer Michael Brauer. While the album's narrative may have roots in their motherland, its sound will be equal parts American western film score and Beatles psychedelia, flavored with haunting textures reminiscent of contemporary indie-rock bands.
INDONESIA: Deathrockstar
Brilliant At Breakfast – Gundala Putra Petir
Brilliant At Breakfast are one of this country's finest indie-pop/twee-pop bands. Hailing from Yogyakarta, they already enjoy a global reach, distributing their records around the world via Apple Crumble (Japan), Hands And Arms (France), Susy Records and many more. Enjoy their heartfelt tune Gundala Putra Petir.
IRELAND: Nialler9
Forrests – Tarifa
The duo of Paul O' Reilly and Owen O' Mahony only have two Forrests tracks available online but form from their other band Channel One and a couple of super live shows have confirmed them as a vital prospect. Their music reaches for the night sky, à la M83 or Fuck Buttons with a crisp digital sheen and warm breaths. Tarifa is a beauty.
ITALY: Polaroid
Go Dugong – White Sun (feat. Welcome Back Sailors)
Listening to this song in September may be painful: the level of nostalgia for the summer that just faded away (at least on this side of the globe) can become dangerously high. In any case, the music Go Dugong makes is so good it's worth it – sunny synths, samples lost in the echoes and lots of beats. Go Dugong is the solo project of Giulio Fonseca (from the brilliant band København Store) and he just released his first EP on the Czech label AMDISCS.
MALTA: Stagedive Malta
Tollens – Beautiful Day
Tollens (real name Ryan Formosa) bought his first guitar at age 13, but it was only recently that he started recording proper songs. He came up with the name as a nod to Bernhard Tollens, the German chemist. After unleashing his first EP on SoundCloud to good feedback from friends and even people he'd never met, he decided to take it further. Beautiful Day is taken from the EP Drowning In A Dream – a proverbial bedroom-pop rollercoaster, available as a free download from Bandcamp.
MEXICO: Red Bull Panamérika
Eddie Mercury – In Mexico
September 15 marks Mexico's National Day, and to set the mood for a chauvinistic party we've brought in local Electrique Music genius Eddie Mercury. On this eight-minute bouncing trance, a digitally bloated voice emphasises he wasn't born in New York, Chicago or Detroit – he was born "In Mexico". So let's dress in red, white and green and insanely dance to this new national (house) anthem.
NETHERLANDS: Subbacultcha!
Spilt Milk – Our Despised Decay
During the dark days of December 2011, Amsterdam-based quintet Spilt Milk found comfort in the first eight published poems by American modernist poet Wallace Stevens (1879-1955). Gathered under the title Carnet De Voyage ("Travel Notebook"), these songs are full of stars, sunsets, landscapes and rivers. Although Stevens' poetry may not be the easiest or permeable, listening to Spilt Milk's drone-folk adaptations makes entering his Buddhist-like, abstract view of the world a rewarding experience.
PERU: SoTB
The Cocainers – Let's Dance
Although The Cocainers' career is very new – they formed only five months ago in Lima – it looks very promising. They are in the process of making their first album, but already we can find songs at the level of Let's Dance. With its old school rock, vibrating vocals, electro touches and an inherent indie flavor, it's a powerful song which will make your muscles move without you noticing.
POLAND: Łukasz Kuśmierz Weblog
Muzyka Końca Lata – Dokąd
OK, so this track might be from 2011 and the name of the band means "music of the end of the summer", but Dokąd is earning international fame, having been voted Song of the Summer 2012 in a contest run by popular Seattle-based podcast Too Beautiful To Live. Muzyka Końca Lata is influenced by bigbit – a popular genre in Poland in the 60s – and you can check out the beautiful lyrics of Dokąd here.
PORTUGAL: Posso Ouvir Um Disco?
Minta & The Brook Trout – Falcon
Minta & The Brook Trout are one of the most interesting Portuguese bands around. They were first in MAP in December 2010; Now they are back with their new album, Olympia, out on September 17. To celebrate the release, here's the first single, Falcon.
PUERTO RICO: Puerto Rico Indie
Dandy And The Walkers – Video Ho
Out of the blue, Dandy And The Walkers broke into the Puerto Rican independent scene late this summer with this single, Video Ho. A shared love of The Shirleys and The Ronettes brought Michelle Fernández, Melissa Collazo and Enrique Olivares together, while their sonic exploration led them to recruit Laira Díaz, César Jiménez and Juanto Arrroyo. Mario Negrón (of psych-rockers, Fantasmes) got them to record at Casa Fantasmes, producing this track which showcases the raw talent and contagiously fun vibe the ensemble is able to create. Dandy And The Walkers are currently recording their first album.
ROMANIA: Babylon Noise
Popa Sapka – Stinky Bastards
The music of Popa Sapka, heavily influenced by Balkanic melodies and rhythms, is a mix of ska, pop, punk, gypsy, reggae, folk and the traditional music of 'mother Russia'. Their lyrics, originating from the band's multicultural background, present a twisted mix of English, Russian, Romanian and Gagauzian languages. The light-heartedness and sincerity of their songs are what makes Popa Sapka so appealing.
RUSSIA: Big Echo
FPRF – Crystallization Point
Novosibirsk-based shoegaze band FPRF prepares for its next full-length release with Crystallization Point, a calm and beautiful slow-burning jam backed with remixes by beats producer Ta-ku and future garage from Nocow.
SCOTLAND: The Pop Cop
Siobhan Wilson – All Dressed Up
Siobhan Wilson's music pursuits have taken the 24-year-old from her native Scotland to a surprise pop career in France, back to Scotland and now London, where she finds herself charming all-comers with her folky, jazzy bilingual storytelling and cartoon-like glamour. Unrequited love is the dish of the day in All Dressed Up, the captivating standout track of her just-released mini-album Glorified Demons.
SINGAPORE: I'm Waking Up To…
FAUXE – Be My Love
A mysterious force has been brewing in Singapore, bubbling beneath the shiny veneer of saturated city lights. The glitchy imperfections of static haunt the corridors of abandoned buildings, a sign of life from androids realising self-awareness. FAUXE leads a charge into this unknown realm, stirring up quite the storm with his debut EP Ubuntu and letting his music trickle down your window panes on a rain-sodden day.
SOUTH AFRICA: Musical Mover & Shaker!
Al Bairre – Youth De Freitas
Symphonic indie-rock band Al Bairre was formed at the begining of 2011, drawing influences from bands such as Arcade Fire, Ra Ra Riot, Vampire Weekend and Edward Sharpe & The Magnetic Zeros. The five-piece have seemingly perfected the indie-dance genre, combining cello, violin, keys, Fender guitars and ukulele to produce an exciting sound that has seen them scale the local scene.
SOUTH KOREA: Korean Indie
Big Baby Driver – My Goodbye
After many years of crafting lovely music, singer-songwriter Big Baby Driver recently rose to fame after having a few songs featured in Korean television drama series A Gentleman's Dignity. Last month she released a collaboration single with former MAP artist Kim Mokin. My Goodbye, with its bossa rhythms, is Big Baby Driver's contribution to the release.
SPAIN: Musikorner
Naturalesa Salvatge – Sota L'aigua
Naturalesa Salvatge are a five-piece from Barcelona who make melancholic but dreamy melodies. Their main influences are The Smiths, Teenage Fanclub and The Radio Dept. Formed during a national lo-fi explosion, Naturalesa Salvatge have shown they're not as ephemeral as similar acts, most of them now defunct.
SWEDEN: Ja Ja Ja
Caviare Days – You'll Qualify
Swedish sisters Lina and Maja Westin formed Caviare Days in New York, which isn't at all surprising since one could easily compare them to a couple of other female-fronted garage bands linked to the city's scene. This is a good thing, of course. Their 60s-inspired psychedelic rock is as refreshing as it is really, really good. The duo's self-titled debut LP is out now in Sweden and will be released in North America on October 9.
SWITZERLAND: 78s
Fai Baba – Peach Orchard Mama
The first time Fai Baba was on a stage he had just come back from a spiritual journey through India. Then he picked up his guitar, wrote a few songs and played his ass off in cellars, whisky bars and squatted houses. His psychedelic blues-rock is best enjoyed during live shows, they tend to get ecstatic. His debut album Snake Snake was released in August.
TURKEY: WEARTBEAT
On Your Horizon – Untitled #1
On Your Horizon is a four-piece experimental post-rock gathering from Eskisehir and Istanbul. Their album Home is a DIY production released for free in 2010 via Bandcamp. Having made a tremendous impact, the band's self-confident has increased and their new track Untitled #1 is an ironclad song which builds splendidly.
UNITED STATES: We Listen For You
Seamonster – Normandy Landscape
The music of Seamonster is a slow-moving invasion of simple yet powerful movements of sonic exploration that ultimately transports the listener to another world. Every layer upon layer reveals itself slowly until every instrument is swirling and floating above. Melt into this track, let itself wrap around you and take over.
VENEZUELA: Música y Más
HolySexyBastards – Getting Over You
When we decided to include HolySexyBastards in this month's MAP, they were just another competitor in Festival Nuevas Bandas, one of the biggest new music festivals in Venezuela. Today, this power trio formed in Valencia are the winners (along with Okills, who were on MAP in January 2012). HolySexyBastards offer us the track Getting Over You, included on their self-titled album released in May.